How does a Recycling Baler work?
There has never been a better time to invest in waste handling equipment such as Balers and Compactors. With growing consumer demand for environmentally friendly companies, 2021 is the perfect time to re-evaluate your business's approach to waste. We've compiled an in-depth Baler purchasing guide, detailing everything you need to consider if you're considering buying a Waste Baler in 2021.
Regardless of industry or size, almost all businesses can benefit from implementing a 'Waste Baler'. Baler's work by deploying a high force compaction ram to compact recyclable material. This allows businesses to extract recyclables such as cardboard, paper, rigid/flexible plastics, and more from their waste stream and compact these into solid blocks of material called Bales.
Compacted blocks of recyclable material are typically collected for free and for many businesses actually generate a stream of revenue that can easily outweigh the cost of the Baler generating a profit. All while simultaneously reducing the amount of cardboard, paper, plastic, etc. sent to landfill. This process keeps your bins and skips clear, reducing the number of costly waste collections required.
Balers have become increasingly popular across all industries including; retail, restaurants, offices, supermarkets, and warehouses. However, with so many makes and models available it can be difficult to find the right one for your business. This article will help you select the right Waste Baler for your business to ensure you purchase a machine that is right for you. 
To determine, the type and size of Baler you'll require we've outlined some key considerations.
Type of Waste
The first step in the process of purchasing a Waste Baler is to ensure that your business will actually benefit financially. Firstly, examine your waste stream. What types of waste are you producing – does your business consistently generate quantities of recyclable material such as cardboard, plastic, or paper? If so then it's likely you can benefit. In March 2021, the cost per ton of recycled cardboard was between £110-145. Without a Baler, you'd have to pay to dispose of this waste, however by investing in one of our machines you can actually turn a cost into a revenue stream.
If however, your business produces smaller amounts of material or it's mostly mixed waste then you may benefit more from a Waste Compactor. Although waste won't be removed from your bins and skips, it will ensure it is fully compacted. Therefore reducing the number of collections required. We have a number of Compactors available capable of handling small to industrial volumes of waste.
Another consideration is the memory retention of the material you're compacting. Items like paper, or cardboard are easily compressed. However, there are certain items, such as foam that required a greater level of compaction and therefore may require a more powerful Baler.
---
Volume of Material
Now you've identified what waste your business produces, it's time to consider the quantity. As the volume and frequency of your waste generation will determine the size of the machine you require. If your business is generating low levels of waste, you'll likely benefit from one of our smaller models such as the LFA 51s which produces 30kg Bales. Medium streams of waste are best handled by a slightly larger machine such as the LFA 151HD or LFA 251.
Businesses producing larger quantities of waste will likely require an LFA 500HD or potentially if you have sufficient throughput a Horizontal Baler such as the 450 H or 600H. Horizontal Balers can be loaded by hand, fork tipper, and conveyor built to maximize efficiency – if you require a turnkey solution don't hesitate to get in touch.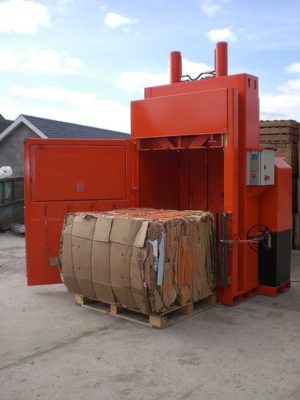 ---
Space available
Where you'll store and operate your Baler will need to be considered. Ideally, it will be placed near to where waste is generated to maximise efficiency. Several of our Balers have a sufficient IP rating to be stored and operated outside if required. Vertical Balers have a relatively small footprint and our smallest model has a footprint of just 670x720mm. Naturally, larger and horizontal models have greater footprints, so this should be factored into your purchasing decision.
---
Budget
We offer a range of Balers for sale at varying price points, depending on the size and model. In addition to selling new models, we also sell a range of refurbished Balers. We understand that despite their numerous financial and environmental benefits, for many businesses it can be difficult to raise the capital required to purchase a Baler outright. We offer affordable leasing plans to ensure your business can benefit, without making a large capital investment. More information on leasing can be found in our in-depth article.
Not only will your Baler reduce your disposal costs, many businesses actually generate income from rebates that far outweighs the cost of the machine. At the time of writing, the cost per ton of cardboard is between £110-145. So not only will your collection costs be lower, but you'll also be generating a sizeable income from the waste you would have otherwise had to pay to dispose of. Making investing in a Baler in 2021 a no-brainer.
---
Electricity Supply
Your new machine won't be much use if it doesn't turn on. Depending on the model you select, you may require Single-Phase or Three-Phase supply. Ensuring you have the appropriate electricity feed and voltage to power your machine should be factored into your purchasing decision.
---
Safety & Training
Once your new machinery is set up, you'll need to ensure every operator is trained to use the equipment safely. At Landfill alternatives, we offer a range of training solutions to get your team up to speed.
---
Post Sale Servicing
All of our equipment is designed and built to last. However, like all machinery, over time it will sustain heavy usage and require servicing. Keeping your Baler serviced will ensure its continued operation, therefore post-sale servicing must be considered. We offer affordable servicing plans that will keep your machine in good working condition throughout its lifecycle.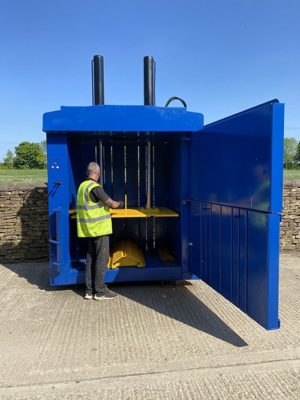 Summary
If you believe a Waste Baler would be a good investment for your business, then take a look at our extensive range. Including vertical, horizontal, twin ram, automatic and specialist Balers.
If you're still not sure what model is right for you, then consider our no-obligation, on-site audit.
Free Audit
Choosing the right type of Baler for your specific requirements can be a tricky decision to make.  With so many different factors to consider it helps to have a professional's input. That's why we offer a free, no-obligation on-site audit.  During this visit, we'll analyse all of your waste streams and recommend a solution that will best satisfy your requirements. We have over 20 years' experience in waste management so rest assured we'll find the right fit for you.