We sell, hire and rent an extensive range of Waste Balers, and recycling Compactors. Perfect for recycling and compacting business waste such as Cardboard, Plastic, Paper, and more. We stock every model including Vertical Balers, Horizontal Balers, Automatic, Twin Ram, Paper balers and specialist machinery. In addition to selling new machinery, we also offer used, second-hand machines that have been fully refurbished.
We've been supplying high-quality, reliable waste handling equipment for over 20 years. Today we're considered one of the UK's largest suppliers. No matter how big or small your business is, we can help. Our team will select the right machinery to handle your specific waste requirements – and above all, at the best price.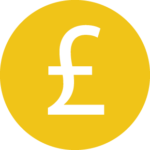 Generate Revenue
Balers help your business revenue by reducing disposal costs and can also generate rebates.
Cardboard Balers
Dispose and recycle waste cardboard with our machinery.

Plastic Balers
We stock a range of Plastic Balers for bottles, packaging and film.
Waste Baler Buyers Guide
With over 20 years of experience in waste management equipment, we know a thing or two about Waste Balers. We've answered some of the most common questions about Waste Balers and recycling compactors. So if your business is considering buying or hiring a Baler to help increase recycling and lower disposal costs, then this guide is for you!
A paper baler compresses tons of paper waste into solid bales, while a cardboard and plastic baler handles cardboard and plastic waste in a similar manner. All baler equipment helps us manage various types of waste effectively, saving us time and money.
If you still have questions and need help with your purchase, then don't hesitate to get in touch with our friendly sales team. We may know our waste, but we don't talk any rubbish and will be happy to guide you through every step of the process.
Waste Balers are heavy-duty machines, used to compact waste materials such as cardboard and plastic into solid blocks called bales. These blocks are easily transported ready to be processed at a recycling plant.
Balers are used to compress and compact waste materials such as cardboard, paper, plastic film, and more into bales. Bales are solid blocks of material that can be easily transported and processed at a recycling plant. This process frees up space in bins and skips, reducing disposal costs and environmental impact.
Both Balers and Compactors aim to minimise the amount of space waste takes up. However, Balers typically process recyclable materials, such as cardboard and paper. Where Compactors tend to process low-value mixed waste such as general trash or food waste.
Vertical Cardboard Balers can cost anywhere between £2000 and £15,000 to purchase outright. However the price of a Baler can vary drastically, depending on the size and throughput. There are also additional costs involved with customisation. We offer affordable lease hire, if you'd wish to rent a machine and also offer refurbished machines.
Depending on your model, a recyclable material, such as; cardboard, plastic, and paper is loaded into the machine. Once the feed is full, the compaction ram will compress the material. This cycle is repeated until enough material has been compacted to produce a full bale. After that, the bale is tied off and is then ejected from the machine, ready to be collected for recycling. All of our machines are extremely safe to operate and have design features that minimise the chance of accidents occurring. In addition to this, we offer full training to ensure your workforce can operate the machinery correctly.
A Bale is a large bundle of recyclable material produced by a Baler. Bales are easily stackable and transported, therefore, reducing the space required on-site for waste storage and transport costs.  Depending on the machine and waste material, bales can weigh between 30 – 1000kg.  All of our products indicate the size of the bale that a particular machine can produce.
The majority of recyclable materials can be baled. As a result, businesses will use a Baler to compact cardboard, plastic, plastic film, paper, and rigid plastic. Heavy-duty Balers can also handle flexible metals. In addition to the common streams, we also have specialist machines that can handle niche products such as tires and mattresses.
Balers have become increasingly popular across all industries including; retail, restaurants, offices, supermarkets, and warehouses. They are typically best placed at the source of waste to minimise transportation.
Vertical Machines
Vertical Balers enable your business to compact waste such as paper, cardboard, plastic, and more.  As the name suggests, the material is compacted with a downward force and as a result, they are also occasionally referred to as downstroke Balers.  Material is hand loaded into the chamber, once this is full, the door is shut and the ram compacts the recyclables. This process is repeated until a full bale is created and then subsequently tied and ejected.
At LFA we sell and lease a wide range of Vertical Balers that can produce bales between 25-600kg.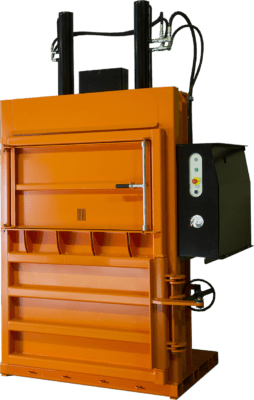 Horizontal Machines
Horizontal machines process waste differently to a vertical model.  Material is fed either by hand, bin tipper, forklift or via a conveyor belt system into a hopper.  Material is then compacted horizontally, forming a bale.  As continuous loading is possible, these models favor higher throughputs and can process large amounts of cardboard, plastic, and more. Once enough material has been compacted a bale is ejected from the side of the machine. At LFA we sell and lease a wide range of Horizontal Balers.

Cardboard and Plastic Balers
Many businesses generate vast amounts of bulky waste cardboard and plastic that can easily fill up bins and skips. A cardboard or plastic Baler can help your business save thousands by enabling you to compact your waste material. Once baled the material can be collected for recycling and is often taken away for free. At certain volumes, bales can even start to generate revenue. This reduces the number of costly bin and skip collections required and reduces the amount of cardboard and plastic sent to landfill.
Businesses of all sizes can benefit from implementing a baler.
Browse our selection of Cardboard and Plastic Balers.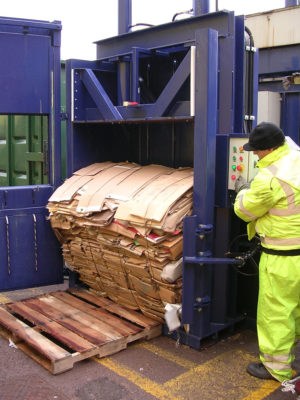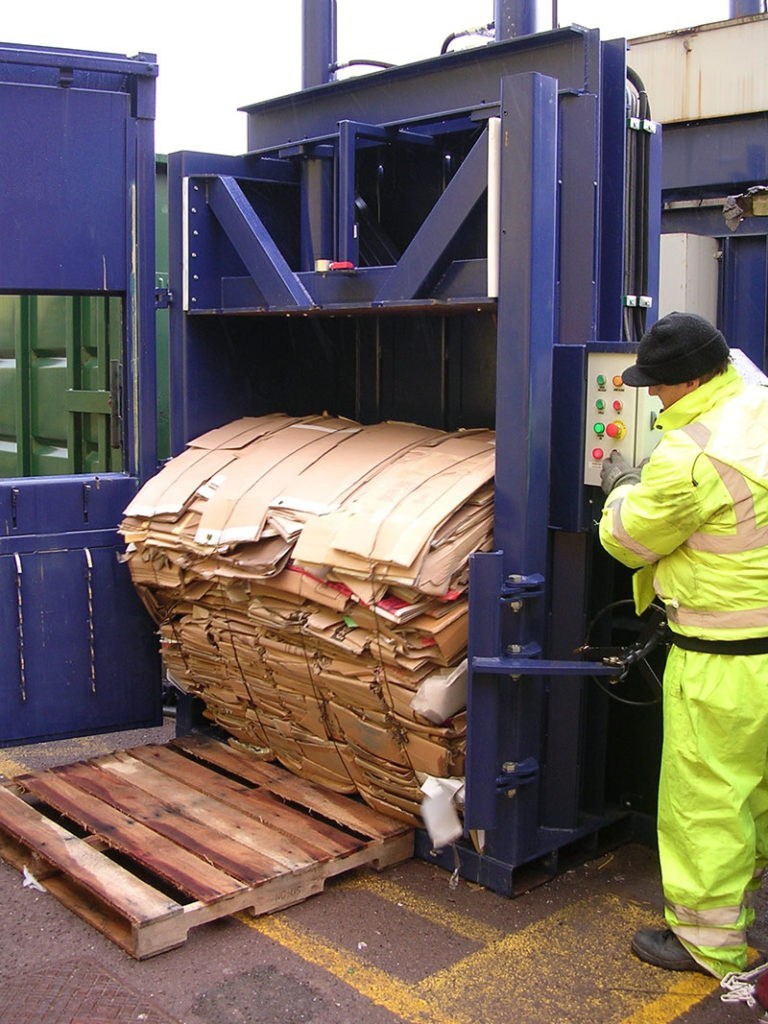 More Questions Than Answers?
We appreciate that our comprehensive range of machinery can sometimes make it difficult to find the right machine to suit your requirements.
Our Product Finder tool makes it easy to find the perfect Baler, Crusher or Compactor to satisfy your business requirements.
Product Finder
Request a Callback
Prefer to speak to us in person? Then leave your details below and a member of the team will be in touch shortly.
Mon - Fri: 9am - 5pm
Sat - Sun: Closed