Drum Crushers
Our drum crushers deal with up to 205 litre drums and crushes them by up to 80%.
Our drum crusher does exactly what it says on the tin, crushes your drums! You simply place your metal or plastic drum into the machine and press green for go, 30 seconds later you have a disk sized drum that you can store back in your skip which takes up 1/5th of the space than it had done previously. The machine can be fitted with sumps or they can be ATEX rated if your drums contain flammable and explosive contents.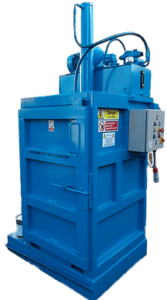 More Questions Than Answers?
We appreciate that our comprehensive range of machinery can sometimes make it difficult to find the right machine to suit your requirements.
Our Product Finder tool makes it easy to find the perfect Baler, Crusher or Compactor to satisfy your business requirements.
Show Me
This Form is Temporarily Unavailable
Please use our contact form if you'd like to get in touch. Apologies for any inconvenience this may cause.
Mon - Fri: 9am - 5pm
Sat - Sun: Closed