Can, Drum & Glass Crusher For Hire
We offer competitive lease and rental agreements across all our crushers.
Crusher Hire & Rental
Can, Drum & Glass Crushers help businesses compact waste materials minimising the amount of space they occupy in bins and skips. By reducing the volume and expelling air from containers businesses require fewer waste collections and save money on disposal costs.
Purchasing one of these machines outright can be expensive and require significant capital investment for businesses. That's why Landfill Alternatives offer affordable and competitive lease and rental agreements for crushers.
We even match or beat prices on comparable machinery from other UK suppliers, ensuring you always get the best price. So speak to us today about our rental and lease hire options.
No Large Investment
Leasing Crushers requires little upfront investment compared to purchasing outright.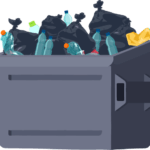 Save Space In Bins & Skips
Crush cans & drums, minimising the space they take up in your bins.
Friendly Customer Support
Should anything go wrong, our friendly support team is always on hand.
Clear Terms & No Hidden Costs
We offer straight forward leasing, with no complex negotiations, terms or hidden fees.
Affordable Servicing Plans
We have a qualified and reliable servicing team to keep your machine in working order.