Bin Compactor
Specialist compactors process material in a different way. The list of other compactors are – in bin, block, and roto.
The bin compactor or skip compactors compact waste in a different manner compared to conventional machines. They compact into wheelie bins, 1 m/3 plastic bags or into an open top 40 cu yd skip.
Specialist Compactors can have many advantages over generic compactors depending on the type of waste and volume.
They are especially effective when you have limited space on site, bulkier materials or it just isn't cost-effective to install larger machines.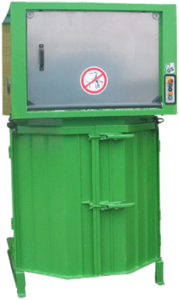 More Questions Than Answers?
We appreciate that our comprehensive range of machinery can sometimes make it difficult to find the right machine to suit your requirements.
Our Product Finder tool makes it easy to find the perfect Baler, Crusher or Compactor to satisfy your business requirements.
Show Me
Request a callback
Prefer to speak to us in person? Then leave your details below and a member of the team will be in touch shortly.
Mon - Fri: 9am - 5pm
Sat - Sun: Closed