Densifiers
Densifiers are designed to significantly reduce the volume of polystyrene such as sheets that surround white goods and fish boxes. The densifier has a claw set up that reduces the styrene down to smaller pieces. This is then processed by a helical screw against previous material down a tube. The long rectangular bricks can then be stacked on a pallet achieving 150 – 200 kg per pallet. Densifiers work best when they are fed constantly through the day.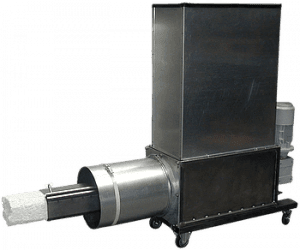 LFA PD 1000 – Small Polystyrene Densifier

Learn More

LFA PD 2000 – Large Polystyrene Densifier

Learn More
More Questions Than Answers?
We appreciate that our comprehensive range of machinery can sometimes make it difficult to find the right machine to suit your requirements.
Our Product Finder tool makes it easy to find the perfect Baler, Crusher or Compactor to satisfy your business requirements.
Show Me
Request a callback
Prefer to speak to us in person? Then leave your details below and a member of the team will be in touch shortly.
Mon - Fri: 9am - 5pm
Sat - Sun: Closed