Portable Compactors
We have two different sizes of portable compactors for sale & lease hire: 10 m/3 and 20 m/3.
Portable or mobile compactors normally reduce mess on site. The machines are fitted with rear seals to eliminate liquid seepage. They can be fed by hand, bin tipper, customised tipper or by forklift tipping skips.
Once the waste is loaded press the go button and the compaction block then processes the material. The compactors can be specified with both 3/4 full and full indicators giving warning to the operator to organise collection.
The machine is then lifted by your contractor, tipped and then returned to you ready to continue compacting.
We sell & hire both new and refurbished portable waste compactors if you'd like to know more get in touch.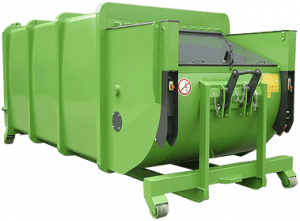 More Questions Than Answers?
We appreciate that our comprehensive range of machinery can sometimes make it difficult to find the right machine to suit your requirements.
Our Product Finder tool makes it easy to find the perfect Baler, Crusher or Compactor to satisfy your business requirements.
Show Me
Request a callback
Prefer to speak to us in person? Then leave your details below and a member of the team will be in touch shortly.
Mon - Fri: 9am - 5pm
Sat - Sun: Closed