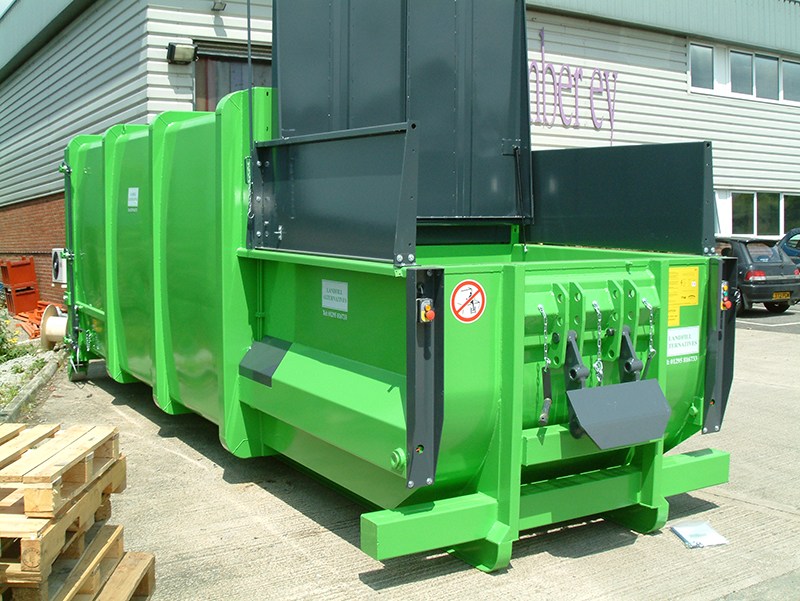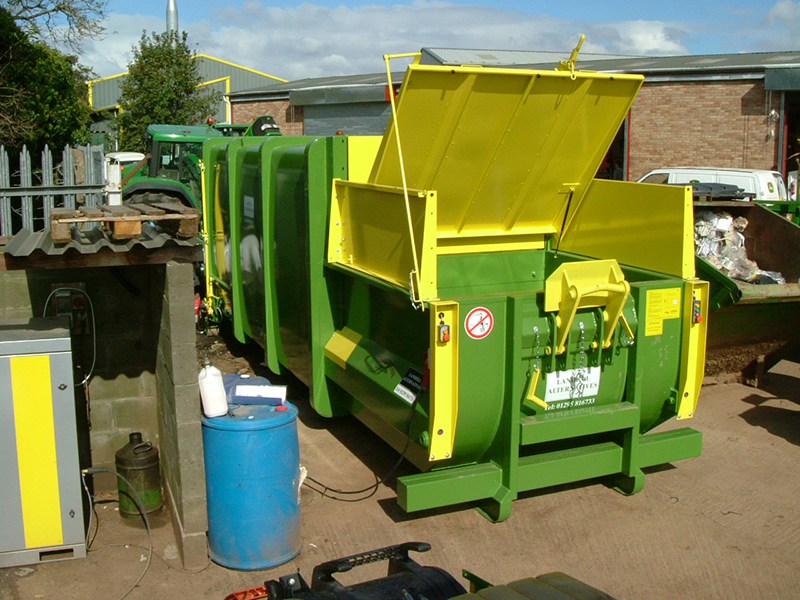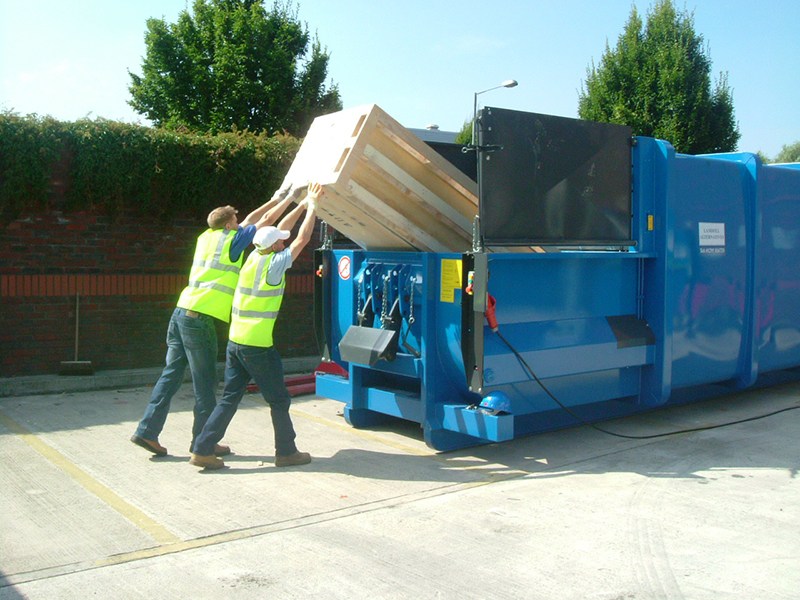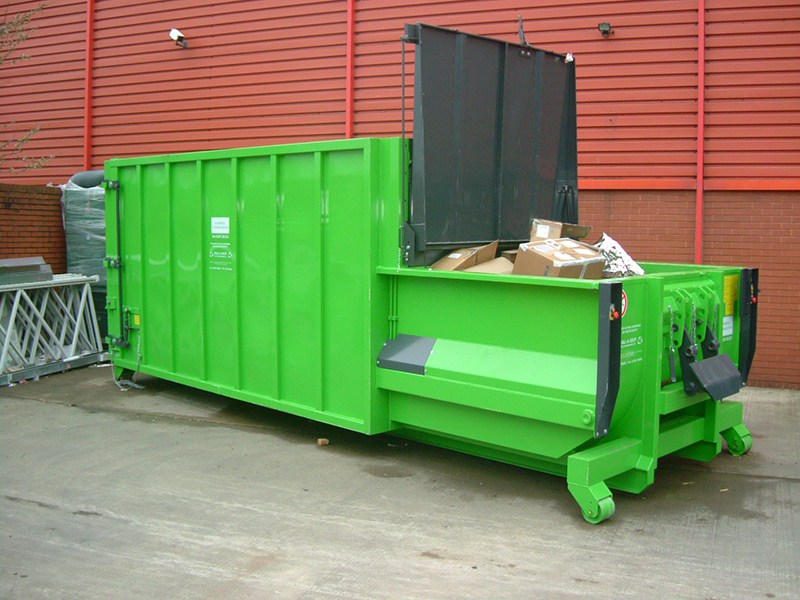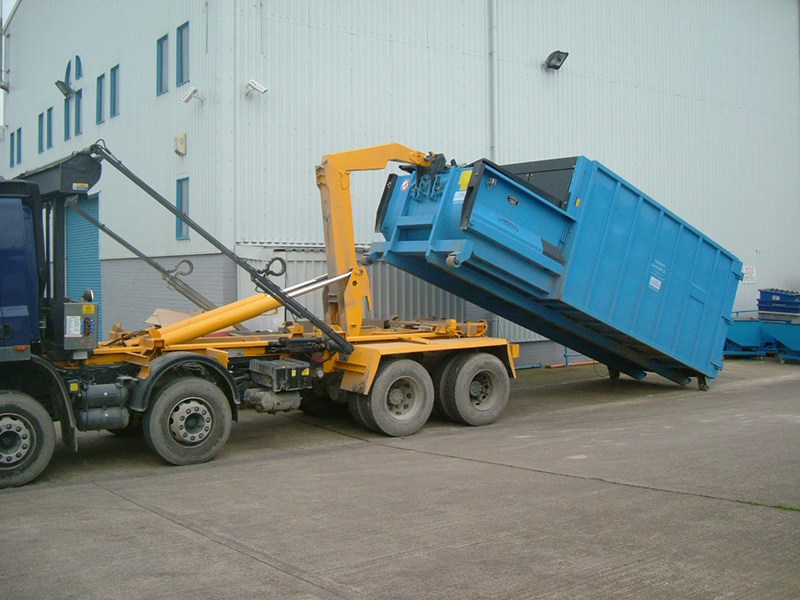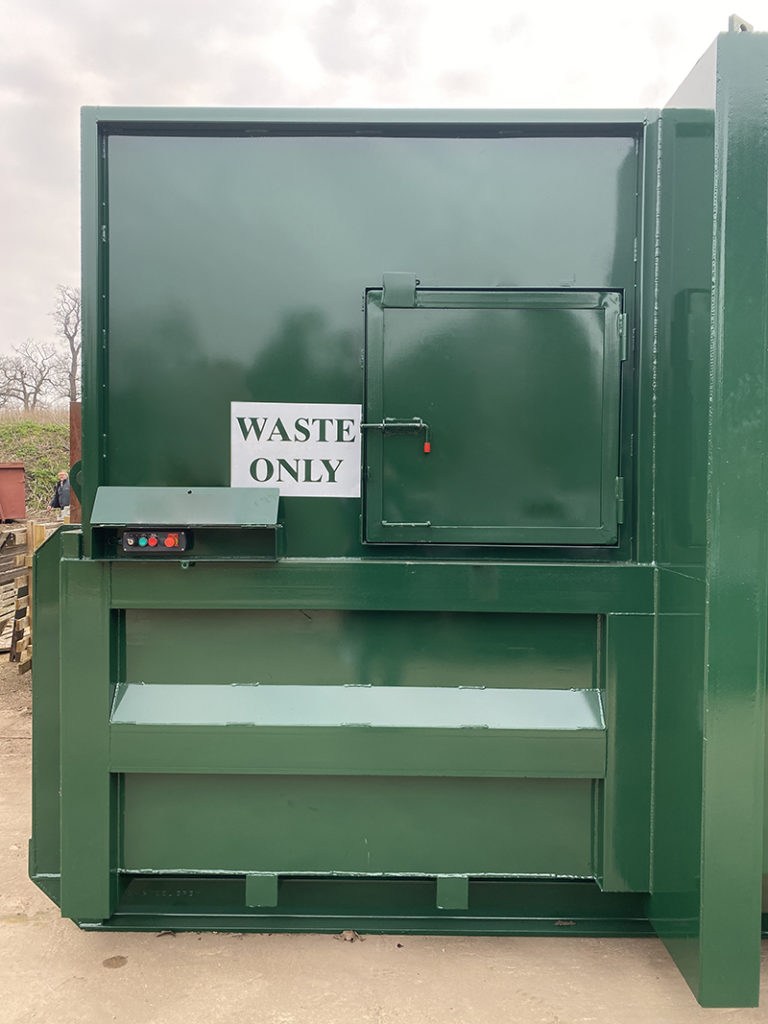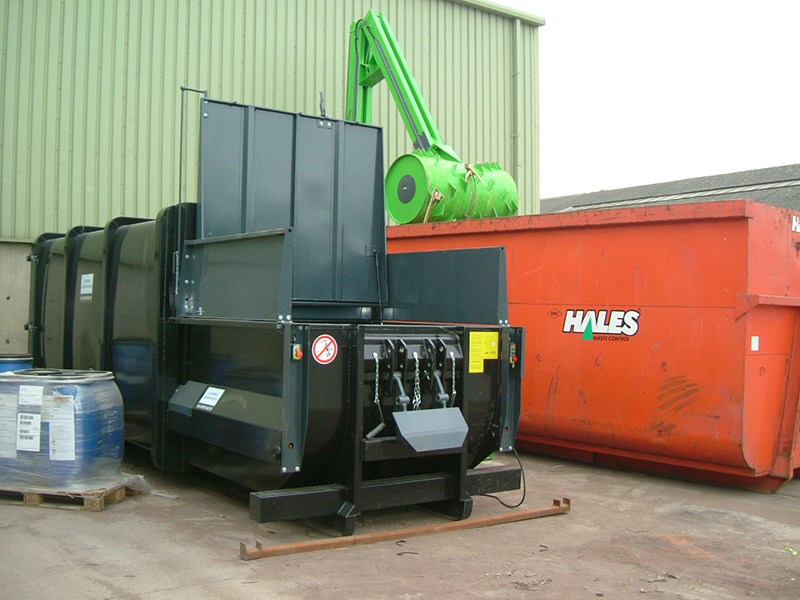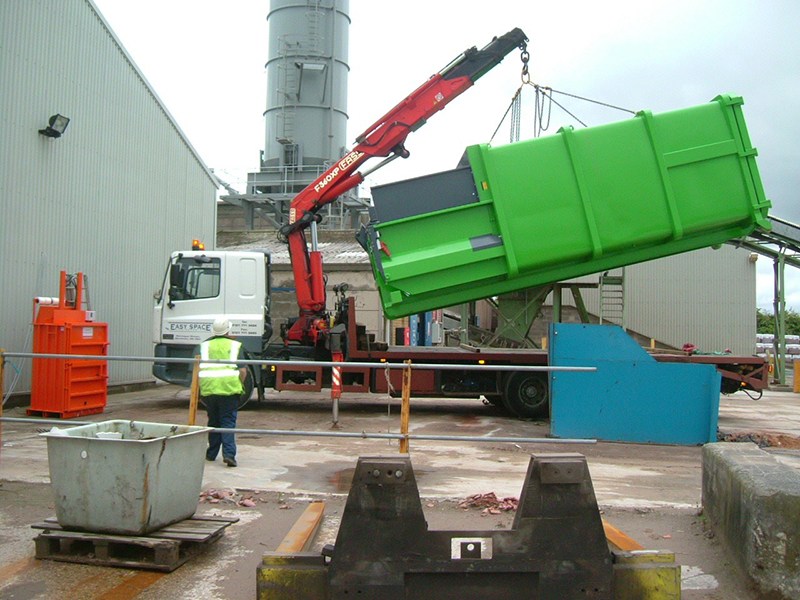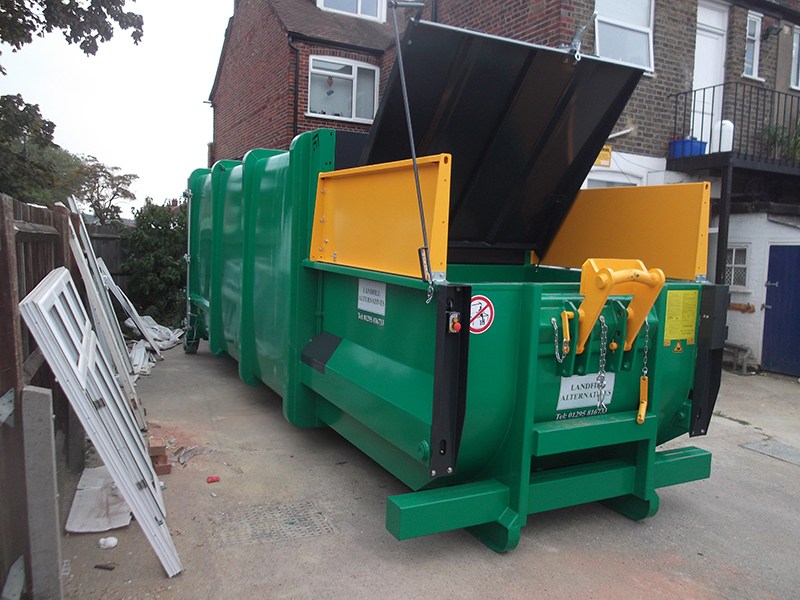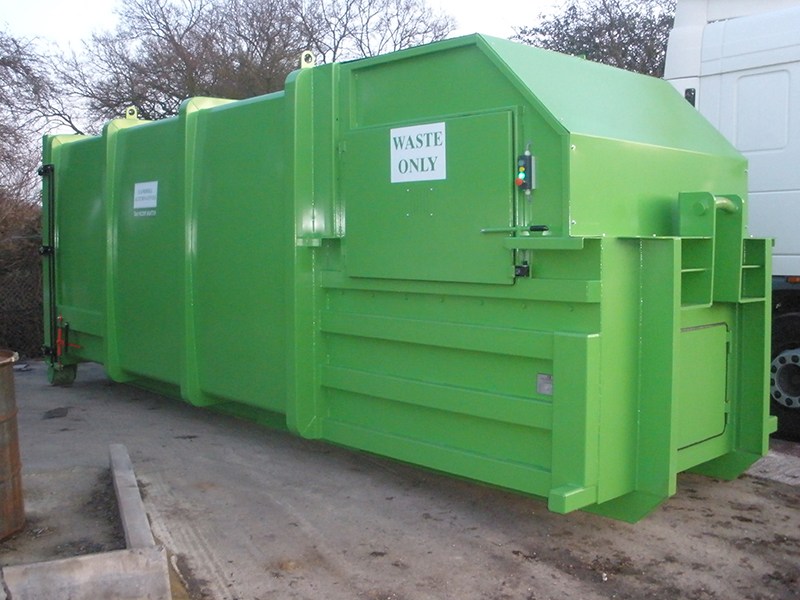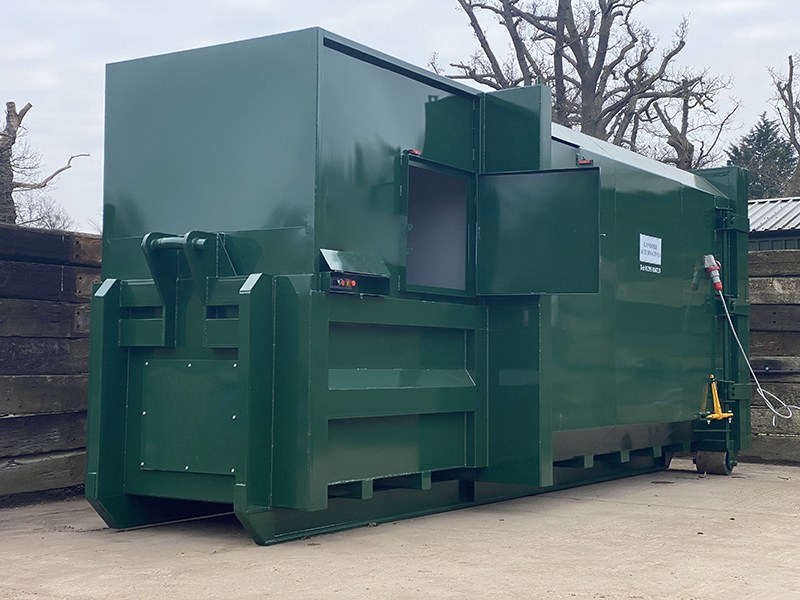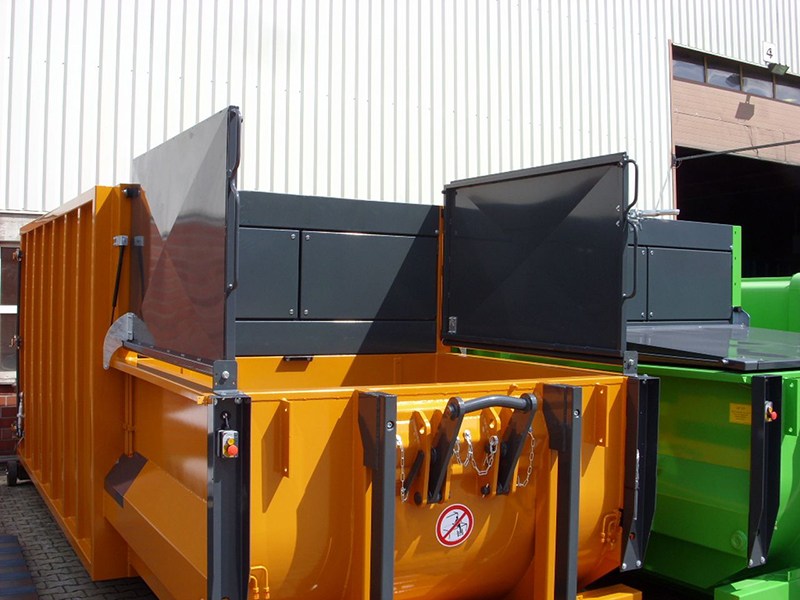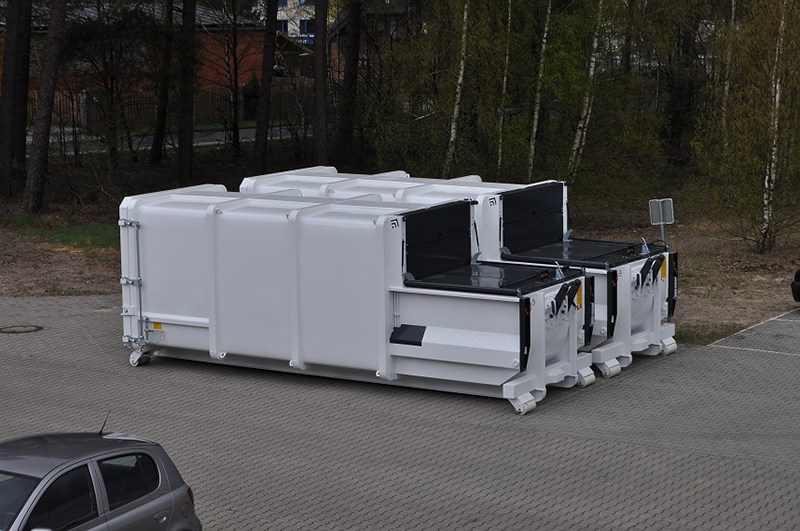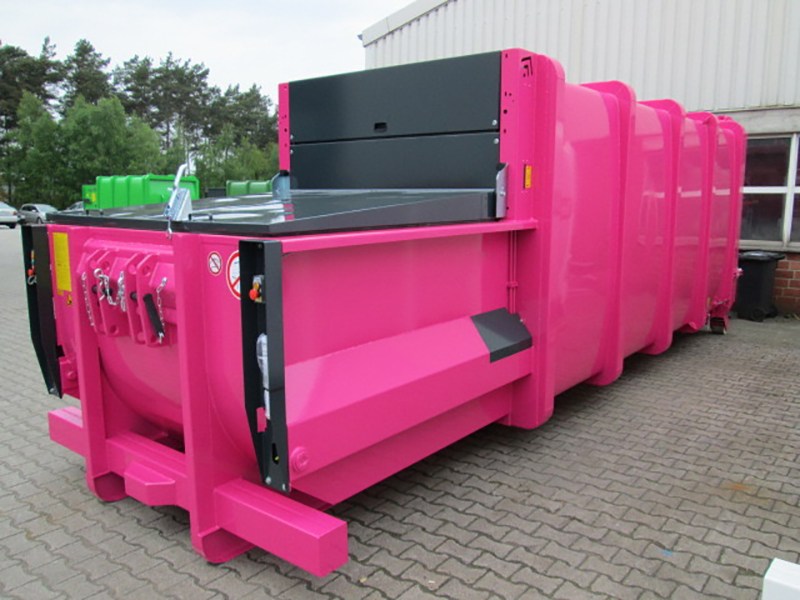 APB 20 – Portable Compactor
Description
The APB 20 is our 20m³ dry waste, portable compactor. It is one of our most used machines in our entire range. The main purpose of a portable compactor is to contain all waste whilst reducing the amount of transportation required to dispose of waste. By using the APB 20, it is ensured that charges are correct for disposal instead of being overcharged for under capacity skips and bins. The extra powerful 30t compaction force can achieve payloads of up to 8t of general waste but in some instances, up to 12t.  The APB 20 has a massive 1700x1800mm feed opening which uses a fast straight push ram compaction mechanism. These features are great for high volumes of waste and the ram is able to break larger waste types up like pallets before compacting into the chamber. This also allows for a multitude of different feeding methods such as hand loading, forklifts, tipping skips, tele-handler etc, and a variety of different waste types.
Compactor Measurements
Load Weight
8000kg (avg.)
Product Details
Product Dimensions
Overall Width
2360mm
Overall Height
2550mm
Overall Weight
~4750kg
Feed Opening Width
1700mm
Feed Opening Depth
1800mm
Length
7020mm
Technical Specification
Compaction Force
30T
Motor
5.5kW
Cycle Time
60 Seconds
Capacity
20.8m³
Compaction Method
Straight Push Ram
Lifting Method
Hook Lift
Electricity Supply
3 Phase, 415V, 32A
The compactor can be specified with a 3/4 full light and we can modify the feed hopper and loading door to meet your needs. It can also have a bin lift attached to tip 500-1100ltr wheelie bins for better manual handling (APB 20 BL). For further customisation, contact us and we will try to meet all requirements.
Typically, the minimum amount of waste per week to gain a cost saving would be either:
1100ltr wheelie bins – Fifteen GW (General waste)
FEL (Front end loader) skip(s) – Three GW
REL (Rear end loader) skip(s) – Two GW
Features
E-stops
Twin cylinders
¾ full indicator
Automatic cycle
Extra-large feed opening
Self-cleaning scraper blade
Simple, easy to operate controls
Rear rollers with drop down hook
Hydraulic pack separate from waste
Powerful 30 tonne compaction force
Rated IP65 so safe to be sited inside or outside
Lockable front hinged feed door & control panel
Low maintenance straight ram compaction method
Benefits
Helps prevent fly tipping
Reduces waste disposal costs
Reduces contractor traffic on site
More environmentally friendly
Saves on labour from reduced material handling
No longer charged for air voids in skips/bins
Reduces carbon footprint and complies with ISO 14001
Keeps the yard much tidier – contains all waste and bad smells
The APB 20 is extremely easy to use and requires very little manual work.
Step 1 – Feeding
This step is straight forward – throw the waste into the charge box and press the green 'go' button to start the compaction cycle. The straight ram will push compact all of the waste into the back container. This cycle will run 3 times but can be configured to run more/less or on a timer.
Step 2 – When is the compactor full?
The compactor has an indicator to notify the operator when it is ¾ full. Once this illuminates, the operator can calculate when the compactor will be full and when it needs to be collected by the waste contractor.
Step 3 – Waste removal
The contractor will arrive on site with a hook lift vehicle and will unplug the APB 20. They reverse up to the compactor and engage the hook positioned at the front of the machine. The vehicle then pulls the compactor up onto the vehicle bed. The compactor will be taken away, emptied and returned ready to start using again.
As simple as that! It probably takes longer to read the operation than to implement it. As part of the package, one of our trusty engineers will come to site and show the team how to operate it in person. Training certification can be supplied if required.
*Note – Refurbished models may vary in operation slightly, but the principle will remain very similar.
APB 20 – Portable Compactor Brochure
Interested in learning more about the APB 20 – Portable Compactor? Leave your details below to get an instant free copy of our brochure.
Benefits of Compacting
To reduce waste disposal costs

To keep the yard much tidier – no mess or leakage

To gain a rebate of recyclable material

To prevent fly tipping

To have less contractor traffic on site

To be more environmentally friendly
More Questions Than Answers?
We appreciate that our comprehensive range of machinery can sometimes make it difficult to find the right machine to suit your requirements.
Our Product Finder tool makes it easy to find the perfect Baler, Crusher or Compactor to satisfy your business requirements.
Show Me
Request a callback
Prefer to speak to us in person? Then leave your details below and a member of the team will be in touch shortly.
Mon - Fri: 9am - 5pm
Sat - Sun: Closed