THE WINDOW CENTRE
Situation
The Window Centre are based in Harrow, West London and supply a loyal local customer base. The eight fitting crews have been constantly busy installing windows and the yard with 2 x 12yd builders' skips fills up with waste every week. Being in London problems with waste are not just cost based. There are regular issues with access to the tight yard, fly tipping and petty thefts of metal and other materials. A cost for these two skips had risen to £1,500 per month and it was time to take action.
Landfill Alternatives were asked for some solutions to not only save costs but to reduce operational hassles. A new large feed portable compactor painted to The Window Centre colours was installed which puts an end to all the problems and saves money.
The compactor is a one-piece system that has a large area to throw in bricks, rubble, old frames and glass. This is then all compacted into the large container to produce a load of between 6-8 tons. It is easy for the staff to use and gives significant more capacity on site and is easily secured.
Waste Materials
Bricks
Rubble
Old Frames
Glass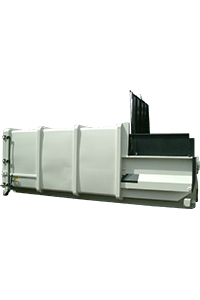 Client Feedback
"The end result of the compactor is that our yard no longer looks a tip and that a vehicle comes once a month rather than twice a week. As a result, we will be pulling down our wooden fence along the perimeter which used to hide the back yard and this will now allow all our delivery vans to be seen from the road which will enhance our local presence. We will find out exactly what the savings will be in the future but 25% looks easily achievable."
More Questions Than Answers?
We appreciate that our comprehensive range of machinery can sometimes make it difficult to find the right machine to suit your requirements.
Our Product Finder tool makes it easy to find the perfect Baler, Crusher or Compactor to satisfy your business requirements.
Show Me
Request a callback
Prefer to speak to us in person? Then leave your details below and a member of the team will be in touch shortly.
Mon - Fri: 9am - 5pm
Sat - Sun: Closed