Cardboard Balers for Recycling
From Cornershop's to Warehouses we sell a range of Cardboard Balers suitable for your business
Learn About
Cardboard Balers for Recycling
Many businesses generate vast amounts of bulky waste cardboard that often fills up bins and skips. A cardboard Baler can help your business save thousands by enabling you to compact and bale waste cardboard. Once baled the material can be collected for recycling and is often taken away for free. At certain volumes, bales can even start to generate revenue. This reduces the number of costly bin and skip collections required and reduces the amount of cardboard sent to landfill.
Businesses of all sizes can benefit from implementing a baler. We sell and lease machinery capable of producing 25kg bales to 500kg mill sized bales.
Over the past 20 years, we've worked with multiple businesses from all sectors across the UK to implement a recycling solution that works for them. On average our customers save thousands of pounds a year.
Discover how much your business could save by arranging a free, no-obligation,

on-site audi

t.
Save Time & Improve Efficiency
There is no need to flatten cardboard boxes, simply place them into the Baler. This saves operatives time and effort.
Save Money
Baled cardboard is often collected for free. At certain volumes cardboard can generate a source of income.
Keep Bins Clear
Removing cardboard from your waste stream means bins need to be emptied less frequently. Saving you money on collection costs.
Minimise Environmental Impact
Cardboard can be recycled and re-used. Diverting it from landfill minimises your businesses impact on the environment.
What are the Benefits of Cardboard Balers?
Balers have become increasingly popular across all industries including; retail, restaurants, offices, supermarkets, and warehouses. This is because they offer a host of benefits to businesses including: 
Improved Efficiency 
With no need to handle and flatten endless boxes, staff can spend more time and energy focusing on key business tasks. If you produce large quantities of waste, we can design and install full turn-key systems that feed material directly into the baler via a conveyor belt. 
Cost Savings
Baled cardboard can often be collected for free or at certain volumes can even generate revenue. In addition to this, bulky boxes are removed from bins and skips reducing the need for frequent collections. 
Enhanced Environmental Credentials
Consumer trends are shifting to favour more sustainable businesses. By opting to bale and recycle your waste you reduce the amount sent to landfills and lower your carbon footprint.
Saves Space On-site
Bulky cardboard boxes take up a lot of valuable space and not only make a business look untidy but can also be a health hazard. A cardboard Baler can keep your site clear and enables you to keep on top of your waste. 
Case Study
One such business that has benefitted greatly from installing a Baler is a food distributor based in Norwich. You can read the full case study here.  
"The baler works just how described and it's amazing how many boxes the baler will take before it's full. The baler saves me significant time as well as being more environmentally friendly."

– Martin Mather, Director
Purchasing a Cardboard Baler
We sell and lease hire over 30 different models of cardboard Baler. No matter how big or small your business is, we've got a machine suitable for you. We offer competitive prices and provide an excellent level of service and customer support. Many of our vertical Balers can be trialed for 14 days, completely free of charge. If you're not sure what type of machine your business needs, try our product finder or arrange a free on-site audit.
Hiring a Cardboard Baler
Despite the numerous environmental and financial benefits, for many businesses it can be difficult to raise the capital required to purchase a Baler outright – that's why leasing a machine is often the best option. Leasing equipment with us is a straightforward procedure. The first step is organising an onsite audit to determine what machinery is best for your specific business requirements. We then draw up a proposal outlining our recommendations and a suitable payment plan.  On receiving your completed rental form we then deliver, install, and provide free training for your system.
Refurbished Machines
In addition to selling brand new machines, we also sell a number of refurbished cardboard Balers. These are restored to a very high standard and can be a very cost-effective route of satisfying your waste management requirements.
Baler Maintenance
Our machines are designed and built to last, but over time they will sustain some heavy usage. In order to ensure your machine is operating correctly and continues to do so throughout its life, it's absolutely vital that you regularly service your machine. We have an extensive team of certified electronic and hydraulic engineers that are capable of servicing any Baler in line with the manufacturer's guidance to ensure its continued operation.
 Take a look at our best selling cardboard Balers below or

see our entire range

 available for sale or hire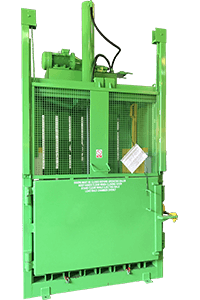 Large Vertical Waste Baler
LFA 500HD – Large Cardboard Baler
Perfect for high volumes of cardboard
Free 14 day trial Available
Product Description
The LFA 500 HD is our largest cardboard vertical Baler that creates bales up to 500kgs in weight (mill size). It is an ideal machine for large quantities of cardboard.
Recommended Industries
Supermarkets
Industrial Warehouses
Logistic Centres
Suitable For
Cardboard
Plastic film
Dry waste
Paper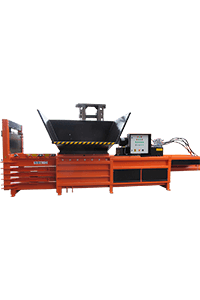 Large Horizontal Baler
LFA 450 H.FE.PC – Large Horizontal Cardboard Baler
Perfect for very high volumes of cardboard
Product Description
The LFA 450 H.FE.PC is an excellent solution for industries with substantial volumes of cardboard. The distinction between a horizontal Baler and a vertical mill sized Baler is that the horizontal machine will allow for continuous feeding, thus achieving a much superior throughput.
Recommended Industries
Distribution centres
Logistic centres
Retail stores
Manufacturers
Suitable For
Cardboard
Plastic film
Dry waste
Paper
Cardboard Baler Frequently Asked Questions
Balers enable you to place waste material into a chamber. Once full the machine deploys a powerful compaction ram applying several tonnes of pressure to compact the material. This process is completed multiple times until a full bale is ejected from the machine.
Recycling Balers and waste compactors can be used in almost every industry. Including retailers, supermarkets, manufactures, distribution centres, hotels, logistic centres, and more. Even the smallest of businesses can benefit from a Baler.
All types of cardboard can be baled; boxes, flattened or shredded provided the cardboard isn't wet or heavily contaminated with plastics.
Both machines aim to minimise the amount of space waste takes up. However, they typically process different materials. Balers are perfect for compacting dry waste recyclables. If your business produces a sufficient stream of these materials then a Baler could be a suitable option. However, if your business produces a high volume of mixed general waste then a Compactor may be required.  To learn more, read our full-length article covering this topic.
The price per ton can vary depending on a number of factors. Larger, mill sized bales generate the highest level of rebate for your material. However, small quantities are often collected for free. We have a network of service providers that can arrange the collection of your cardboard.
Depending on the retailer, the cost of a Cardboard Baler can range between anything from £3500 – £100,000. The final price will depend on many factors and if additional equipment, such as conveyor belts etc. is required as part of the setup. Many customers opt to lease their Cardboard Balers rather than purchasing outright.