THE CHEESE SHED
Situation
Martin Mather is the director for the Cheese Shed based near Norwich. They distribute cheese and other food items to a range of delicatessens, hotels and shops.
As with most items the products from their suppliers are delivered in large volumes of cardboard boxes. Martin was taking the boxes outside on a dry day, to the waste ground at the rear of the warehouse and burning it. This meant significant volumes were stacking up on wet days and the local authority finally advised him that it was not an appropriate disposal method.
While he was delivering products to customers' hotels he noticed the balers supplied by Landfill Alternatives and others and asked them about which was best, the pros and cons and how easy they were to work. He chose an LFA 51 baler from Landfill Alternatives.
This now sits inside his warehouse and as the boxes are generated they are thrown straight in. Eventually a 50 kg block is made, stacked on a pallet outside and a local recycler collects this free of charge as they drive by.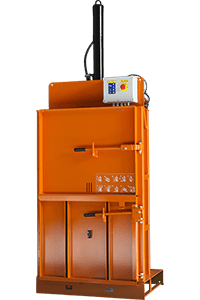 Client Feedback
The baler works just how customers described and it's amazing how many boxes the baler will take before it's full. The baler saves me significant time as well as being more environmentally friendly. Martin Mather, Director
More Questions Than Answers?
We appreciate that our comprehensive range of machinery can sometimes make it difficult to find the right machine to suit your requirements.
Our Product Finder tool makes it easy to find the perfect Baler, Crusher or Compactor to satisfy your business requirements.
Show Me
Request a callback
Prefer to speak to us in person? Then leave your details below and a member of the team will be in touch shortly.
Mon - Fri: 9am - 5pm
Sat - Sun: Closed