F and L GLAZING
Situation
F and L Glazing are a manufacturer and installer of double glazed units in the South East based around Chatham. All process and installation waste was being thrown into an open top 35yd skip emptied once a week. There had been significant increases in prices over the last year and something had to change. The profile off cuts were being recycled as were some timber.
Layne the production director asked Landfill Alternatives to pop in to target any cost reductions that could be achieved. Doug Barrons went to site and recommended a baler with stuff frames to recycle cardboard and plastic film. The baler is sited inside by the stores area where the bulk of cardboard is generated. This is put directly into the baler as whole boxes with no flat packing and the baler generates 40kg bales which are collected free of charge. The stuff frames are positioned at those points where plastic film is taken off the profiles. This is then also processed through the baler to make a bale of plastic film.
There is a significant quantity of both sealed units and off cuts of glass which Landfill Alternatives recommended to be recycled. A 12 yard skip has been delivered which will generate a 4 tonnes load. This is still lifted at a cost but significantly less than landfill.
Industry
Double Glazed Units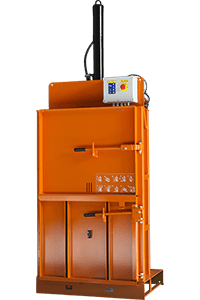 Client Feedback
We should have done this ages ago. Not only does it save money, but it also keeps the yard tidier saving labour time picking it up from the floor. Layne, Production Manager
More Questions Than Answers?
We appreciate that our comprehensive range of machinery can sometimes make it difficult to find the right machine to suit your requirements.
Our Product Finder tool makes it easy to find the perfect Baler, Crusher or Compactor to satisfy your business requirements.
Show Me
Request a callback
Prefer to speak to us in person? Then leave your details below and a member of the team will be in touch shortly.
Mon - Fri: 9am - 5pm
Sat - Sun: Closed