Vertical Balers
We sell and lease a large range of Vertical Balers.  These machines enable your business to extract, compact and recycle cardboard, paper, plastic and more from your waste stream. This allows you to reduce disposal costs and send less waste to landfill.
Vertical balers are hand-fed machines that create a bale size between 25-600kgs (mill-size) depending on your material.
The material is hand-fed through the top door until full and then at a push of a button the ram plate compacts the waste towards the floor and returns to the top. These steps are repeated until a full-sized bale is created. You then tie off the bale using strapping or metal wire. Depending on the machine the bale is ejected using a trolley or a semi-automatic eject system.
Not Sure If You Need a Vertical or Horizontal Baler?
Vertical Balers have a small footprint which makes them more suitable when space is limited.  Our smaller models with less throughput are therefore a great option for smaller businesses who don't generate a lot of waste but are still looking to recycle.  Horizontal Balers are a more autonomous machine and are more suited to larger scale operations.  They allow for continuous feeding of waste, thus achieving a much superior throughput.
If you're not sure if you need a Vertical or Horizontal Baler then get in touch today or read our latest blog post.  Alternatively, you can use our free, online Waste Configurator Tool.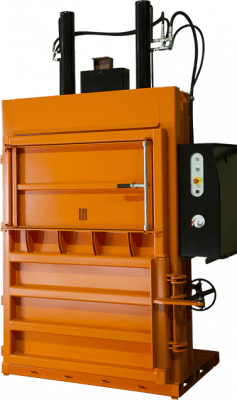 More Questions Than Answers?
We appreciate that our comprehensive range of machinery can sometimes make it difficult to find the right machine to suit your requirements.
Our Product Finder tool makes it easy to find the perfect Baler, Crusher or Compactor to satisfy your business requirements.
Show Me
Request a callback
Prefer to speak to us in person? Then leave your details below and a member of the team will be in touch shortly.
Mon - Fri: 9am - 5pm
Sat - Sun: Closed