Static Compactors
Our static compactor machines vary in the size of its feed aperture, ranging from 2 – 4 cubic yards to make feeding the machine easier for you.
The static compactor is bolted to a hard surface in your yard with a 40yd enclosed roll-on roll-off skip attached onto it. You feed the machine by hand balling, bin tipping or by a tipping skip to feed your waste into the hopper. The machine compacts all of this waste into the 40yd skip attached to it. When the machine indicates to you that the skip is full your contractor will change your full skip over with an empty one straight away meaning no waiting times.
The static compactor is a more customisable machine; the machine can be loaded from different sides, with different size and shaped hoppers depending on your needs.
These machines help you compact and reduce waste while ensuring maximum utilization of the available space. In turn this reduces the number of collections require and minimizes your disposal costs.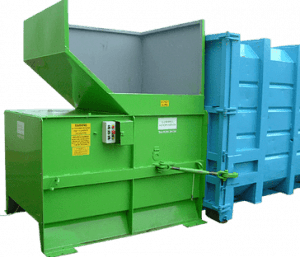 More Questions Than Answers?
We appreciate that our comprehensive range of machinery can sometimes make it difficult to find the right machine to suit your requirements.
Our Product Finder tool makes it easy to find the perfect Baler, Crusher or Compactor to satisfy your business requirements.
Show Me
Request a callback
Prefer to speak to us in person? Then leave your details below and a member of the team will be in touch shortly.
Mon - Fri: 9am - 5pm
Sat - Sun: Closed