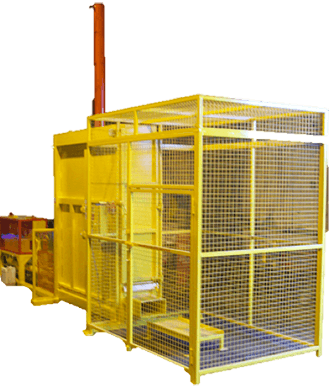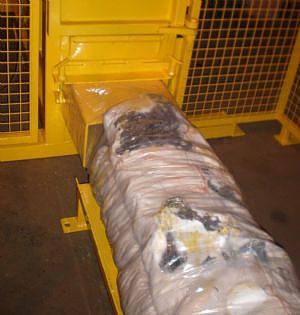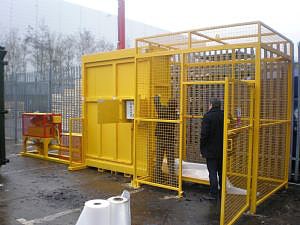 LFA MB (Mattress Baler)
Description
The LFA MB (Mattress Baler) is a heavy duty 30 ton baler that converts individual mattresses of any size or material in to a compressed sleeve.
You place the mattress in to the baler through its 2140 x 350mm feed door. Close the feed door and press the go button. The top mounted cylinders rated at 30 tons then compresses the mattress down by 80%.
With the press plate fully down, a second press plate then pushes this long narrow mattress out of the machine. As the mattress comes out of the baler it is enclosed by a heavy gauge plastic bag.
There is an interlocked safety cage to protect the operator who can gain access to collect the compressed mattress once it is fully wrapped. These stack very efficiently in skip containers, artics or shipping containers.
LFA MB (Mattress Baler) Brochure
Interested in learning more about the LFA MB (Mattress Baler)? Leave your details below to get an instant free copy of our brochure.
Benefits of Baling
Reduce carbon footprint and comply with ISO 14001

To reduce storage space required for bulky waste

Reduce disposal costs and receive maximum income on the baled material

To lead to a tidier work environment which improves health and safety

To reduce the need to flat pack/break down material

To save on labour from reduced material handling
Product Details
Product Dimensions
Overall Width
8100mm
Overall Height
4850mm
Overall Depth
1870mm
Overall Weight
~3200kg
Feed Opening Width
350mm
Feed Opening Height
2140mm
Technical Specification
Compaction Force
30T
Motor
7.5kW
Electricity Supply
3 phase, 415V, 32Amp
The baler can be specified with a vandal proof cover over the controls and a lockable feed door. Up to six chambers max can be added. For further customisation, contact us and we will try to meet all requirements.
Typically, the minimum amount of recyclable material per week to gain a cost saving would be:
1100ltr wheelie bin(s) – Six DMR (Dry mixed recyclables) or Three GW (General waste)
FEL (Front end loader) skip(s) – One DMR or ½ of one GW
Once baled, the bales would typically be collected free of charge.
Process up to 24 mattresses an hour
Easy to load
End product is easy to store and handle
5:1 volume reduction
Free Delivery
Free training, installation and delivery is offered nationwide
14 day Free Trial
We offer a free 14 day trial for all Vertical Balers and Crushers
More Questions Than Answers?
We appreciate that our comprehensive range of machinery can sometimes make it difficult to find the right machine to suit your requirements.
Our Product Finder tool makes it easy to find the perfect Baler, Crusher or Compactor to satisfy your business requirements.
Show Me
Request a Callback
Prefer to speak to us in person? Then leave your details below and a member of the team will be in touch shortly.
Mon - Fri: 9am - 5pm
Sat - Sun: Closed