TYCO
Situation
Tyco, based in Frome, manufacture brass fittings for the fire extinguishing industry. They are part of an international group with a wide diversified product portfolio. Gavin Hares, their Environmental Manager, had the reduction of waste to landfill as a project on his to do list for some time hoping to be more environmentally green and reduce costs at the same time.
Their waste streams included normal packaging material such as cardboard, plastic film, and plastic strapping along with white IBC bulk bags and office paper. They also generated a large number of hazardous wipes, gloves and rags which were disposed of in 205ltr drums. This then left normal general waste from sweepings off the floor, canteen waste, label backing and other odds and ends that came onto the site over time.
Doug Barrons from Landfill Alternatives, based in Northamptonshire, was invited on site to complete an audit which was particularly comprehensive detailing methods of segregating the different material, how best to bulk it up and its final disposal from site. The Landfill Alternative recommendations involved every staff member separating the waste material they generated at their location using stuff frames for plastic film, cages for cardboard and bulk bags and office recycling boxes for paper. Black bins with black bags were then used to capture the final rubbish which was too tricky to separate or not recyclable.
Outside in the yard an LFA 51 single chamber baler now processes cardboard, plastic film and bulk bags into 50kg bales with income for the material. An LFA RC (Roto Compactor) processes general waste day to day and produces a 350kg block wrapped in a bag and sat on a pallet. This is then removed to a pyroclastic incineration plant where it is burnt to create electricity.
The hazardous rags are still collected in drums but once 12 have been stored and the Roto Compactor is free. Gary, the yard man, creates a 400kg block of hazardous rags which is neat, tidy and easy to store. It is amazing how efficient the roto compactor is. There is a zone earmarked for the bales which is well signed and easy to understand.
Waste Materials
Cardboard
Plastic Film
Plastic Strapping
Paper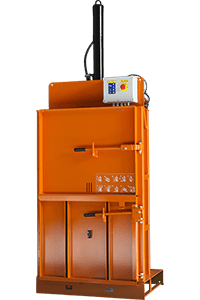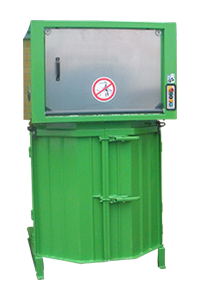 Client Feedback
"Staff have really taken to the system and Gary in the yard finds it easy to manage. It takes up significant less space and we have calculated a 9 month payback on the initial outlay. We receive weights of all materials leaving site which allows us to benchmark the percentages recycled. As well as the cost saving we have exceeded my expectations as I was looking to reduce landfill not expecting to eliminate it. We are very proud of the fact that we are one of the few 'Nil to Landfill' sites in the country. With the help of Landfill Alternatives, our staffs' acceptance of the new system and Gary in the yard we have a most efficient, best value system which we are very happy with." Gavin Hares, Environmental Manager
More Questions Than Answers?
We appreciate that our comprehensive range of machinery can sometimes make it difficult to find the right machine to suit your requirements.
Our Product Finder tool makes it easy to find the perfect Baler, Crusher or Compactor to satisfy your business requirements.
Show Me
Request a callback
Prefer to speak to us in person? Then leave your details below and a member of the team will be in touch shortly.
Mon - Fri: 9am - 5pm
Sat - Sun: Closed