ABBEY VIEW NURSERIES
Situation
Abbey View Nurseries are a large grower and importer of cucumbers and peppers. Although cardboard was already recycled and green waste composted, a high percentage of waste going to landfill was polyprop wrappers generated on the packing lines when the sealing machines failed to seal or the product was poor quality.
Landfill Alternatives was asked to find a recycling route for this material, as well as the polyprop plastic strapping. The solution made use of a clear bag system in stuff frames to capture the film and a red bag system in stuff frames to capture the strapping. The stuff frames were able to get close to the production line where the material was generated without getting in the way, and making it clear and easy for non English speaking staff to separate the material.
An LFA 151 baler was installed and the film, which was 90% by volume, was put straight into the baler while 8 red bags of strapping were stored to one side waiting for the chamber to be free.
The end result was that waste skips were significantly reduced, and income was generated for the material and the next supermarket audits showed some positive action.
Waste Materials
Plastic
Cardboard
General Waste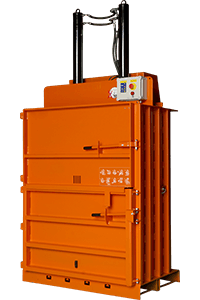 Client Feedback
We have achieved our aim a matter of weeks before the final Marks & Spencer audit. Nothing now goes to landfill and we receive a summary by weight of the disposal for all material. We would gladly recommend Landfill Alternatives to achieve your waste aims. Vince Keedle, Director
More Questions Than Answers?
We appreciate that our comprehensive range of machinery can sometimes make it difficult to find the right machine to suit your requirements.
Our Product Finder tool makes it easy to find the perfect Baler, Crusher or Compactor to satisfy your business requirements.
Show Me
Request a callback
Prefer to speak to us in person? Then leave your details below and a member of the team will be in touch shortly.
Mon - Fri: 9am - 5pm
Sat - Sun: Closed