BELMAY FRAGRANCES
Situation
Belmay Fragrances manufacture flavourings and essences which are included in other products such as soaps, shampoos and candles.  They generate a large range of waste materials which includes paper cardboard, plastic film, wood and glass.
Belmay were looking to attract Marks & Spencers as a customer and knew that the Plan A environmental policy of Marks & Spencers was a crucial factor in being accepted.
Landfill Alternatives were asked to install a "nil to landfill" policy which ensured that no waste went to Landfill and that where possible, recyclable material was recycled.  Landfill Alternatives installed an LFA 151 baler to process the cardboard.  Plastic film was captured separately using stuff frames and then baled and paper, glass & wood were separated for recycling.   This left roughly 10% of their waste as mixed general rubbish.  This black bag waste is collected in wheelie cages and is then taken to the baler and when free is made into a 200kg block.
As required a lorry comes to site, collects all material which is taken to a transfer yard and weighed.  The general waste bales are then moved to a Burn for Energy plant which makes electricity.
Waste Materials
Paper
Cardboard
Glass
Plastic Film
Wood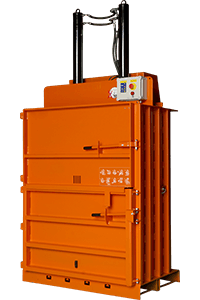 Client Feedback
"We have achieved our aim a matter of weeks before the final Marks & Spencer audit. Nothing now goes to landfill and we receive a summary by weight of the disposal for all material. We would gladly recommend Landfill Alternatives to achieve your waste aims." Vince Keedle, Director
More Questions Than Answers?
We appreciate that our comprehensive range of machinery can sometimes make it difficult to find the right machine to suit your requirements.
Our Product Finder tool makes it easy to find the perfect Baler, Crusher or Compactor to satisfy your business requirements.
Show Me
Request a callback
Prefer to speak to us in person? Then leave your details below and a member of the team will be in touch shortly.
Mon - Fri: 9am - 5pm
Sat - Sun: Closed