EASIBIND INTERNATIONAL LTD
Situation
Easibind are a company based in Heanor who manufacture specialist plastic packaging for all types of products. It's well known for its hologram designs. Easibind have always been very proactive in recycling and already recycle the bulk of their process waste, cardboard and plastic film. They only had 6 tonnes a year of waste still going to landfill.
This was still too much waste to landfill and they called in Landfill Alternatives to identify an alternative disposal method so that nothing went to landfill at all.
Landfill Alternatives recommended upgrading their old ram compactor with integrated bin tipper which took up too much space in their yard to a roto Compactor. The roto Compactor generates neat tidy 350kg blocks of waste which are already sat on a pallet and wrapped in a bag so they now generate one roughly once a month.
By formatting the waste in this way the waste can be collected on any vehicle or skip and be taken to a burn for energy site.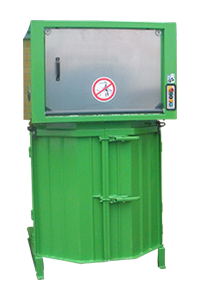 Client Feedback
"We analysed that we couldn't recycle anymore of the material and had run out of ideas to divert the final small percentage of waste from landfill. Landfill Alternatives idea has worked very well and we also now use the roto compactor to process our cardboard as well. This removes another skip off site and creates an income from the cardboard. The roto compactor bags are collected roughly every 6 weeks or so and taken to a local incinerator where the waste is blended with other material and then burnt to create electricity." Ron Brown, Director
More Questions Than Answers?
We appreciate that our comprehensive range of machinery can sometimes make it difficult to find the right machine to suit your requirements.
Our Product Finder tool makes it easy to find the perfect Baler, Crusher or Compactor to satisfy your business requirements.
Show Me
Request a callback
Prefer to speak to us in person? Then leave your details below and a member of the team will be in touch shortly.
Mon - Fri: 9am - 5pm
Sat - Sun: Closed