ATC LASHAM
Situation
ATC Lasham is a bespoke servicing centre for passenger jets and freight. Planes fly in from around the world to have undercarriage changed, engines refurbished, wiring looms upgraded and changes in seating configurations etc.  All waste produced in the bays from the jets were thrown into lots of bins spread across the floor.  This included rags and wipes, cardboard boxes from parts, plastic sheets, and small parts which were no longer required.
Landfill Alternatives installed a segregation system which has allowed the customer to separate all materials underneath the planes.  The system was based around colour segregation so that it was easy for the mechanics to understand and implement.
To process the hazardous rags and gloves a roto compactor was installed.  As the hygiene team collect the rags they take the bags to a waste zone and throw them into the roto compactor.  This is a continual feed system that creates a 350 kg block that is wrapped in a bag and sat on a pallet.  It is now in an easy to move format to get the best value disposal for the material.
Waste Materials
Rags
Cardboard
Plastic Sheets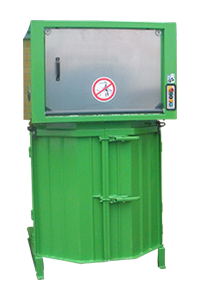 More Questions Than Answers?
We appreciate that our comprehensive range of machinery can sometimes make it difficult to find the right machine to suit your requirements.
Our Product Finder tool makes it easy to find the perfect Baler, Crusher or Compactor to satisfy your business requirements.
Show Me
Request a callback
Prefer to speak to us in person? Then leave your details below and a member of the team will be in touch shortly.
Mon - Fri: 9am - 5pm
Sat - Sun: Closed