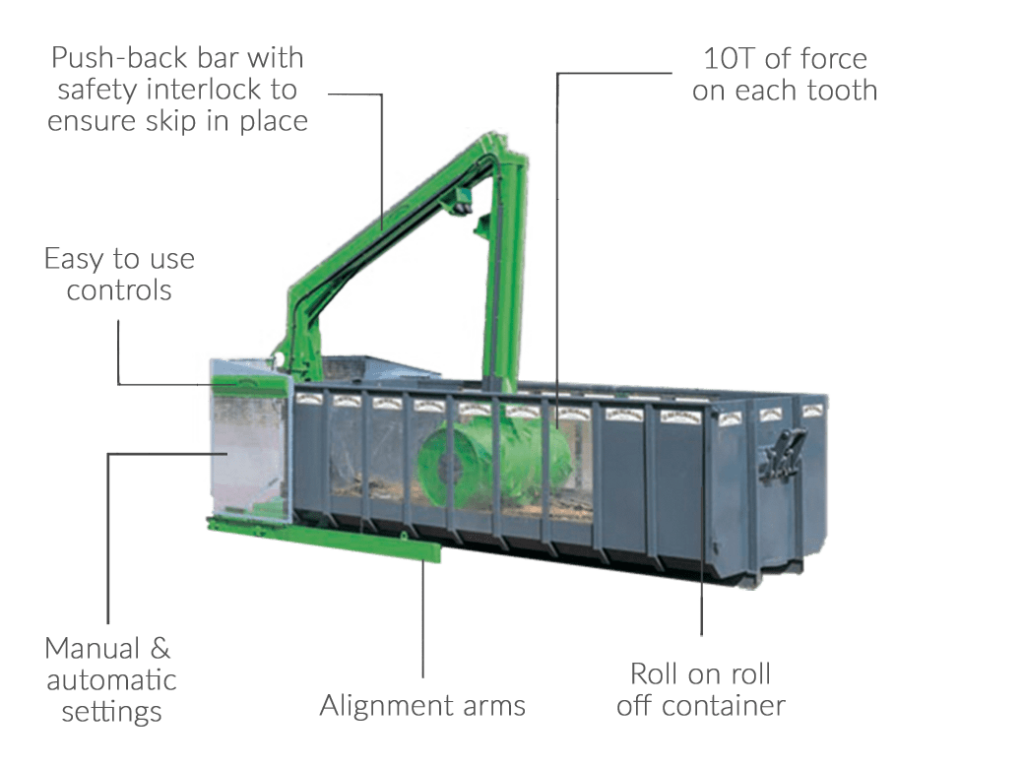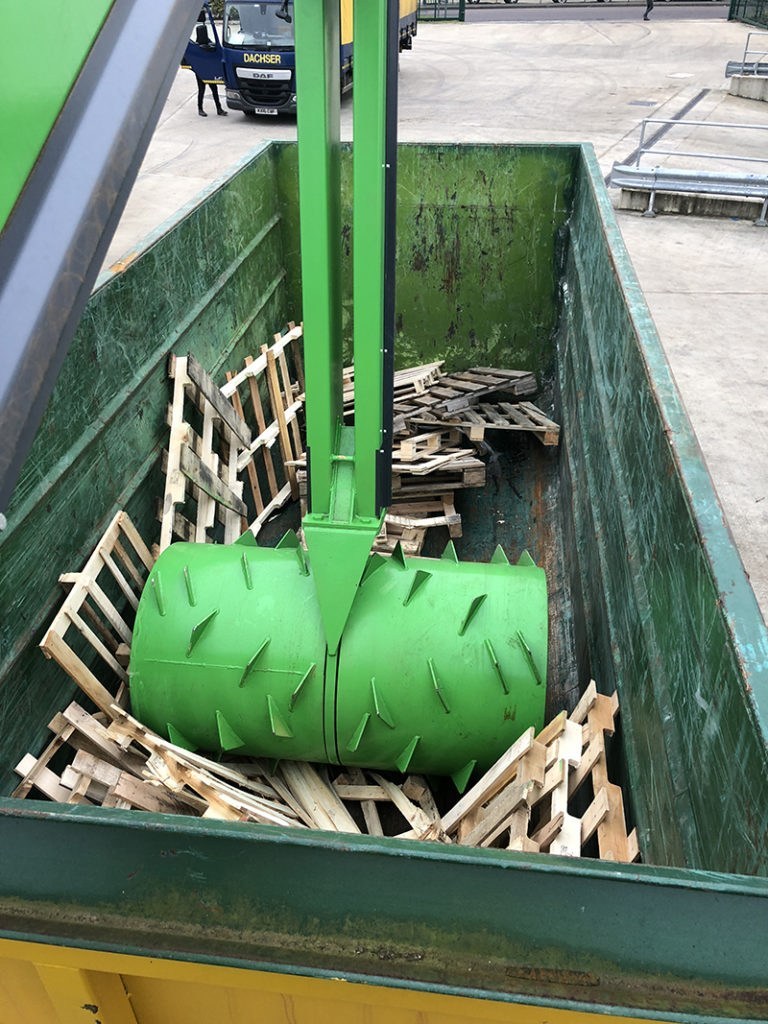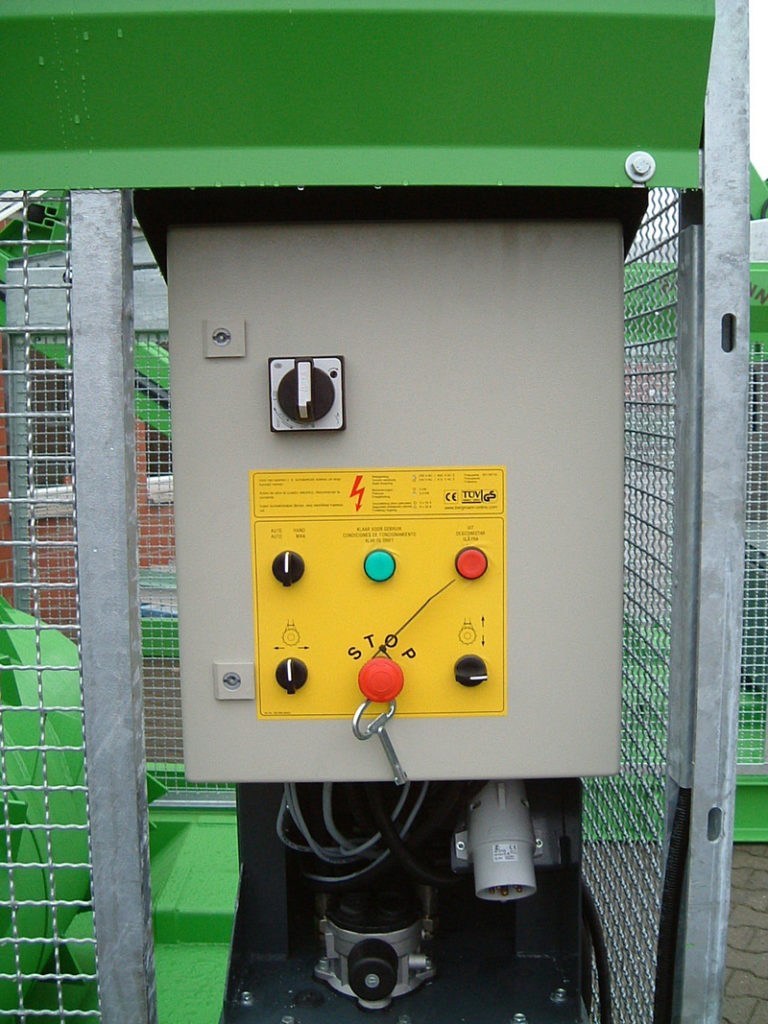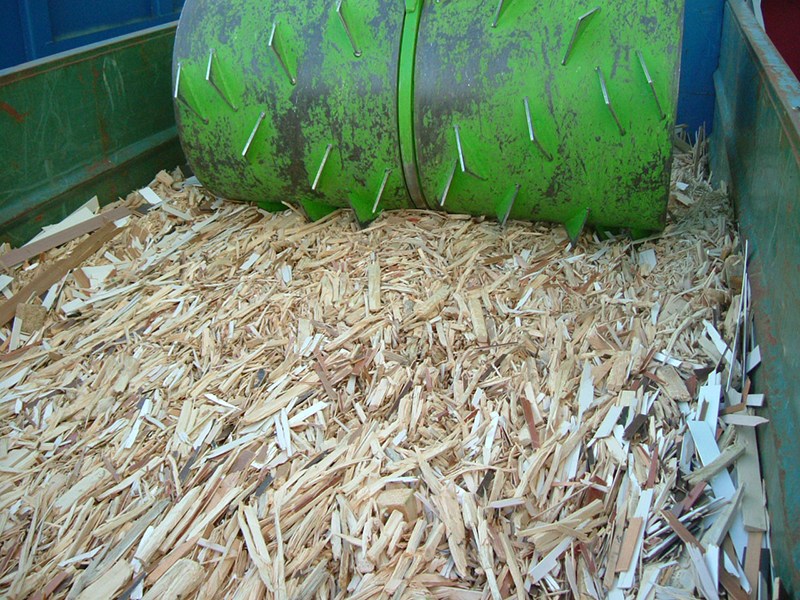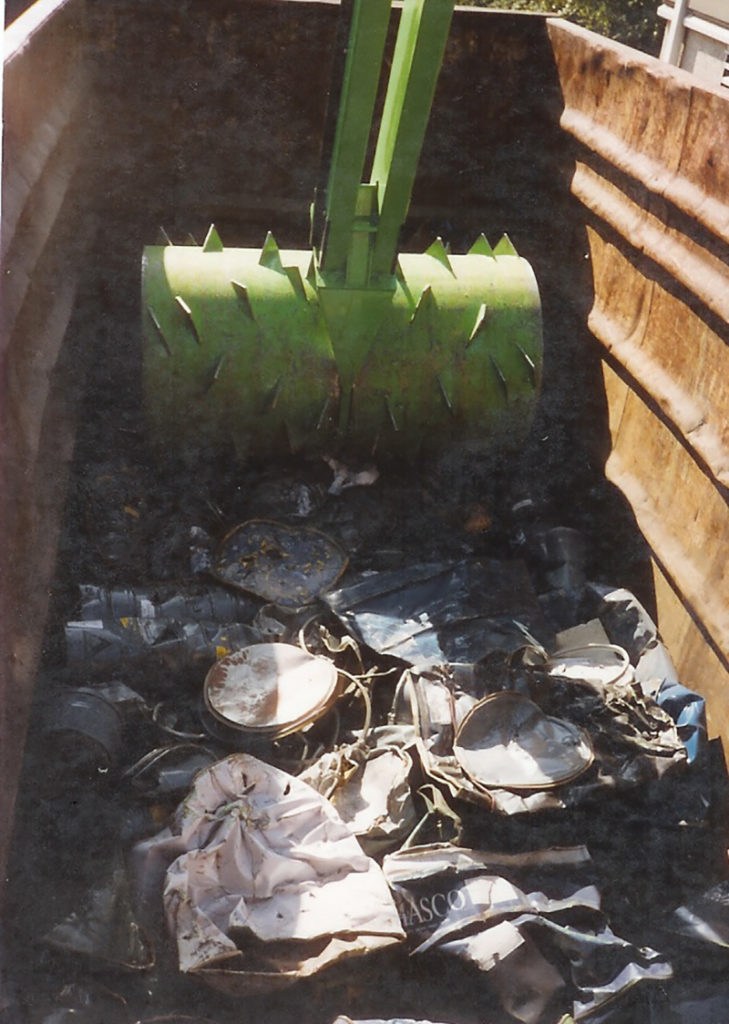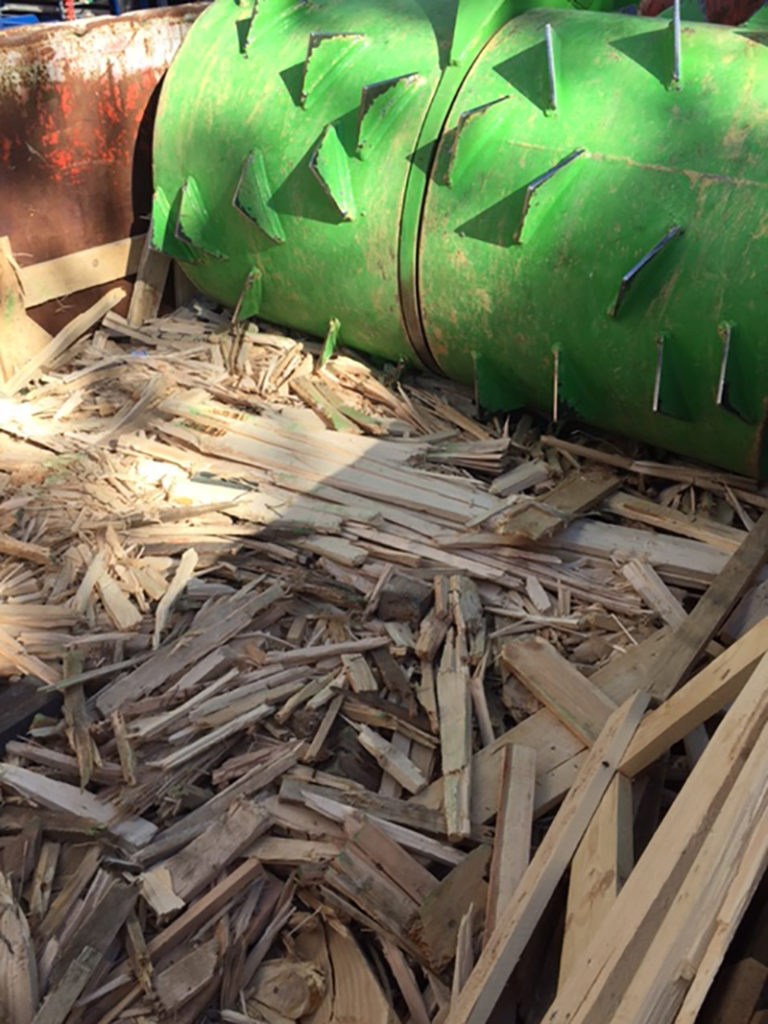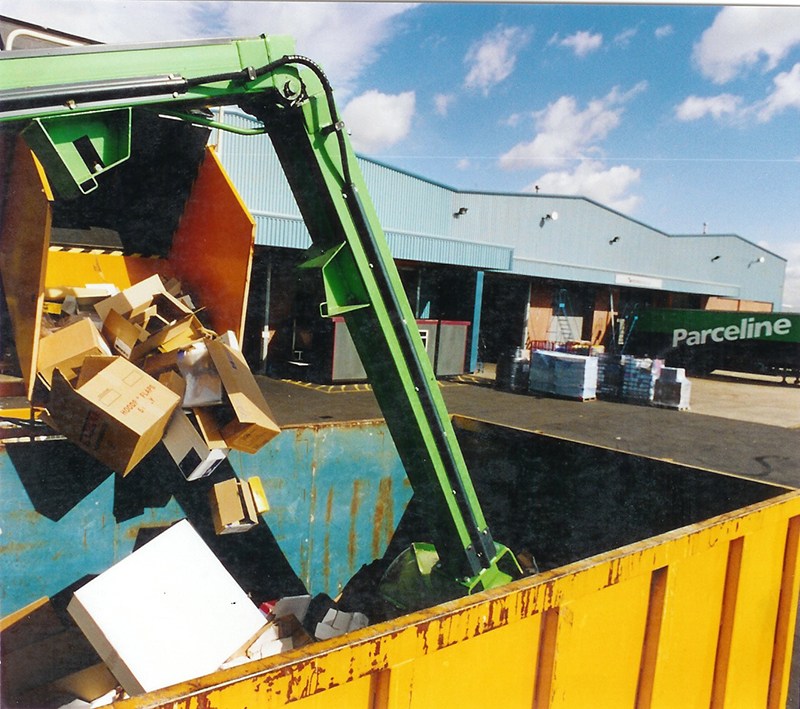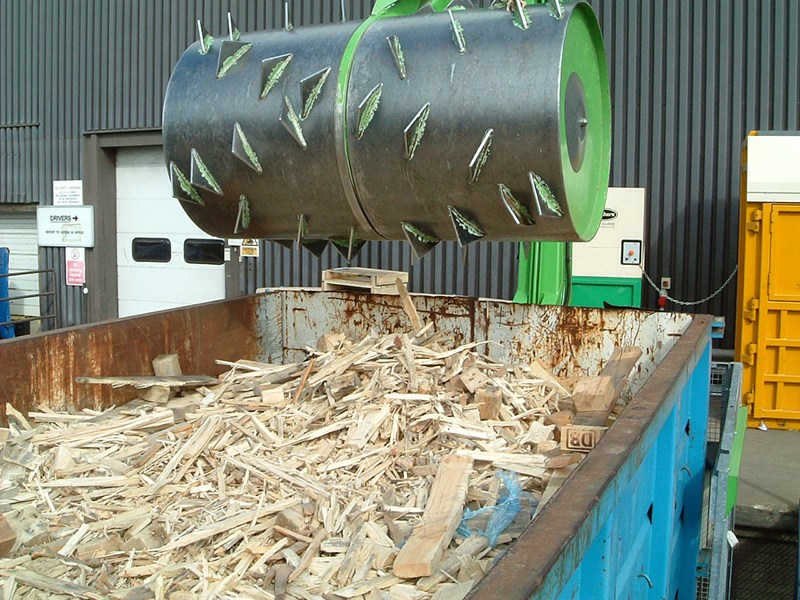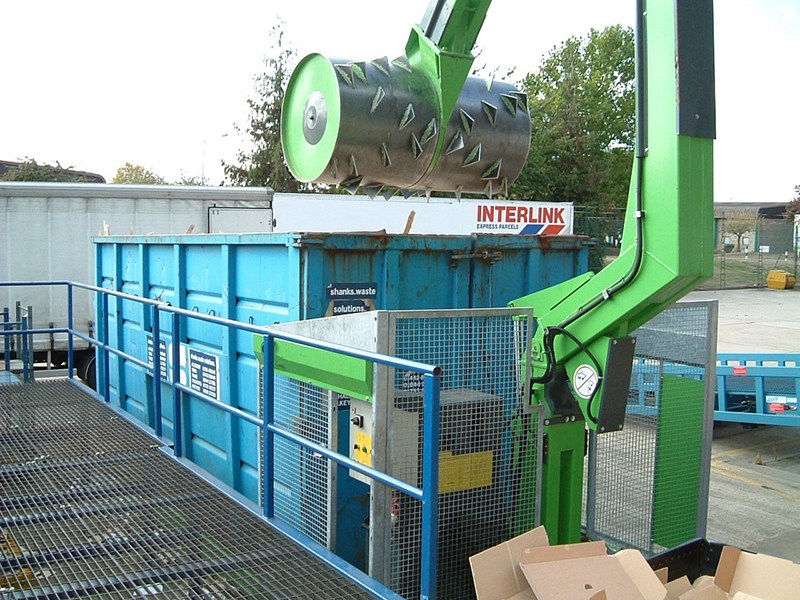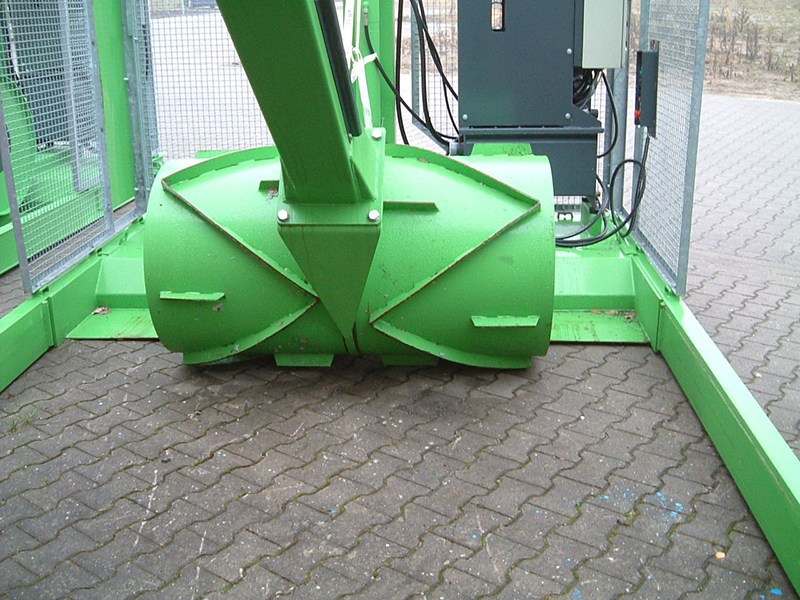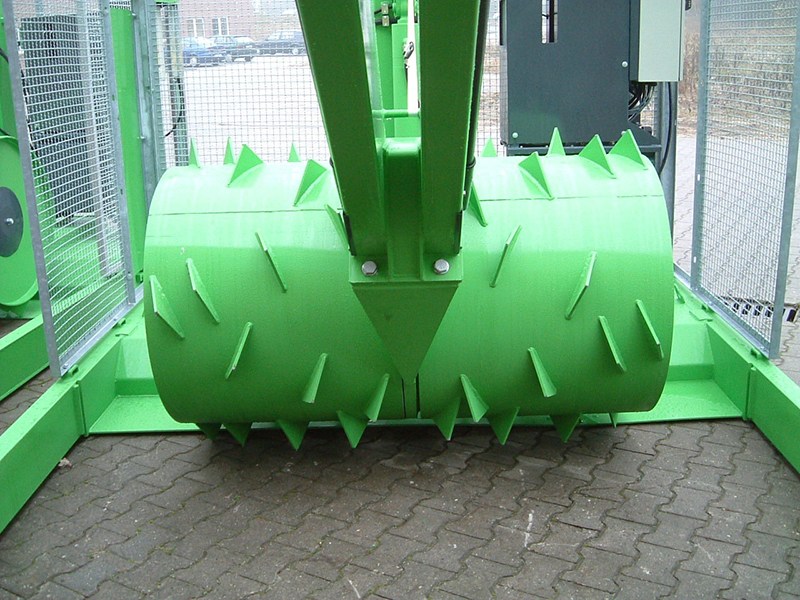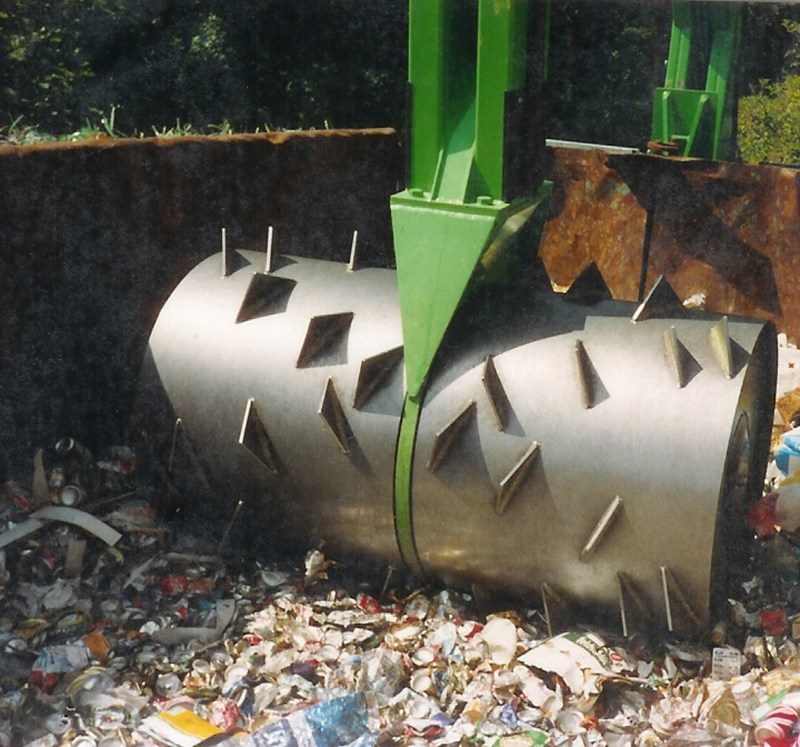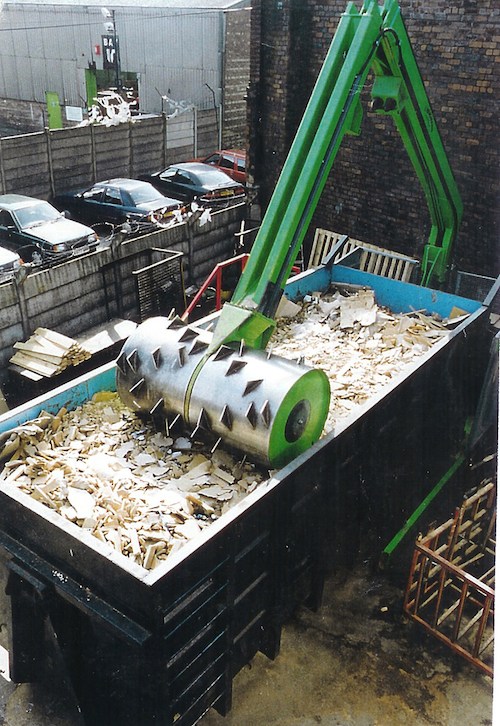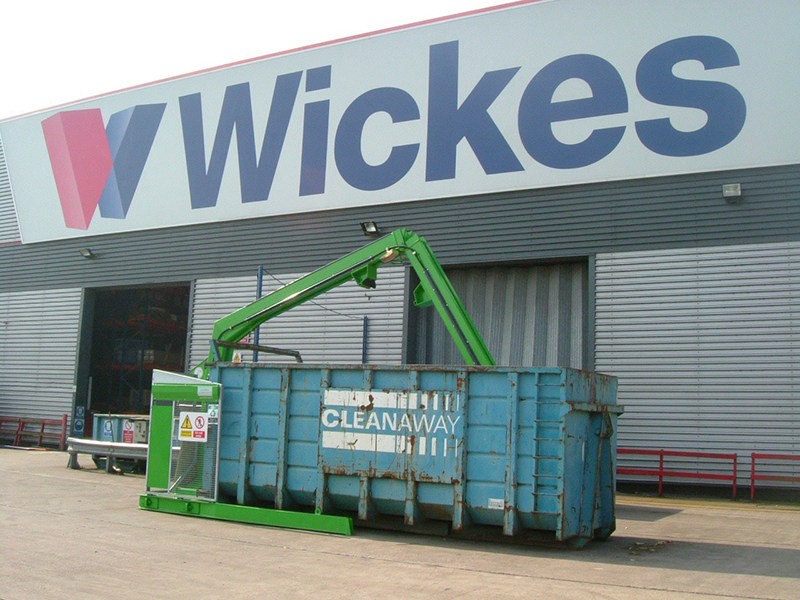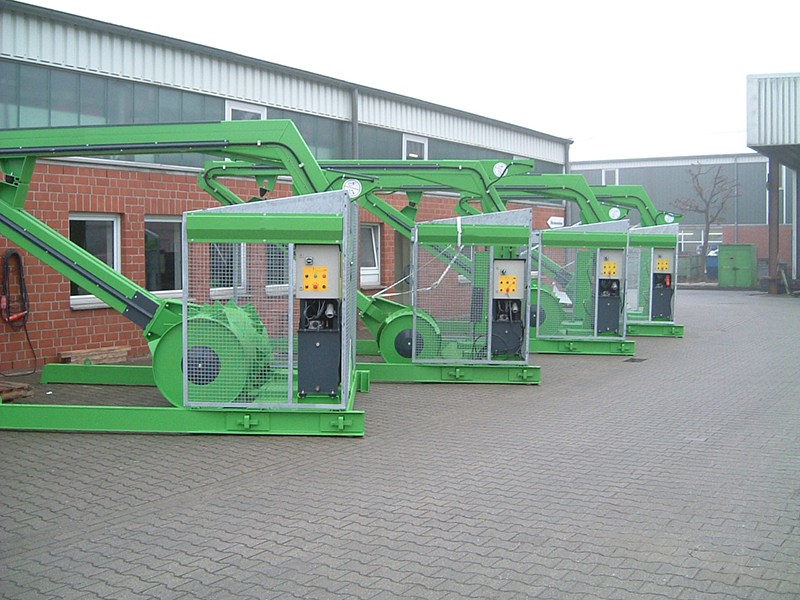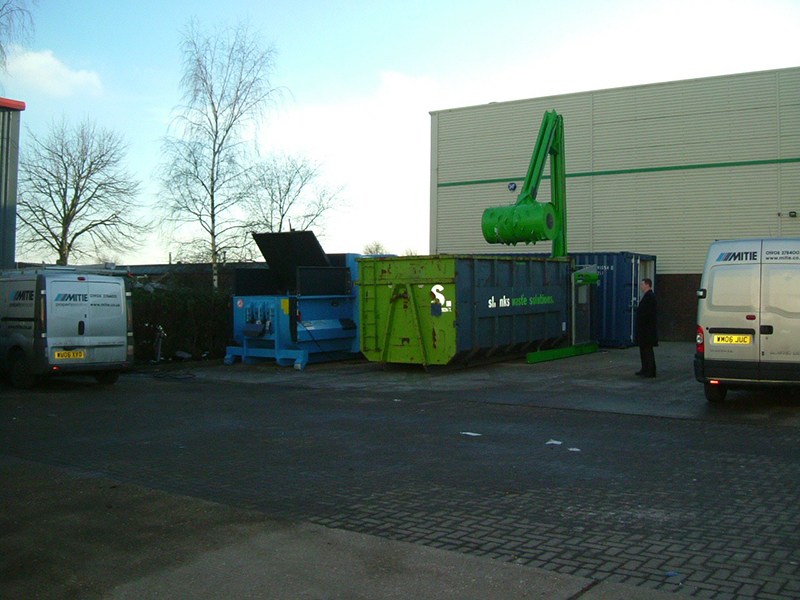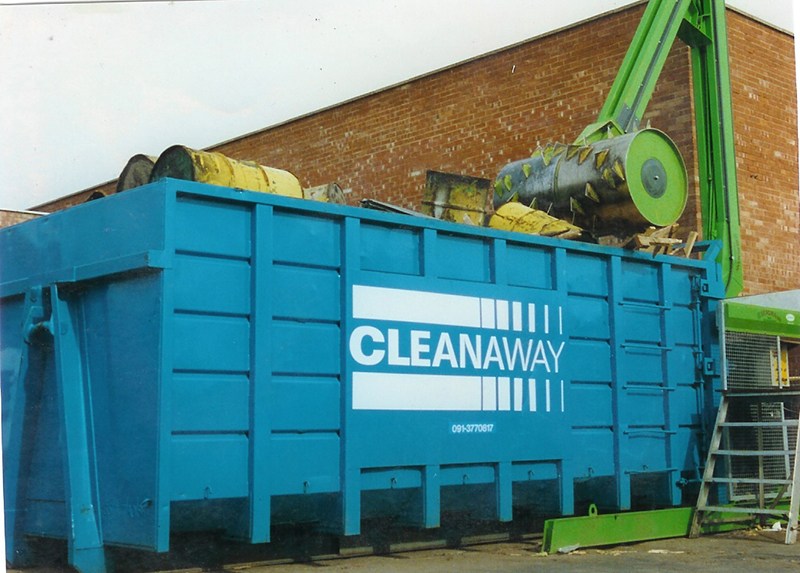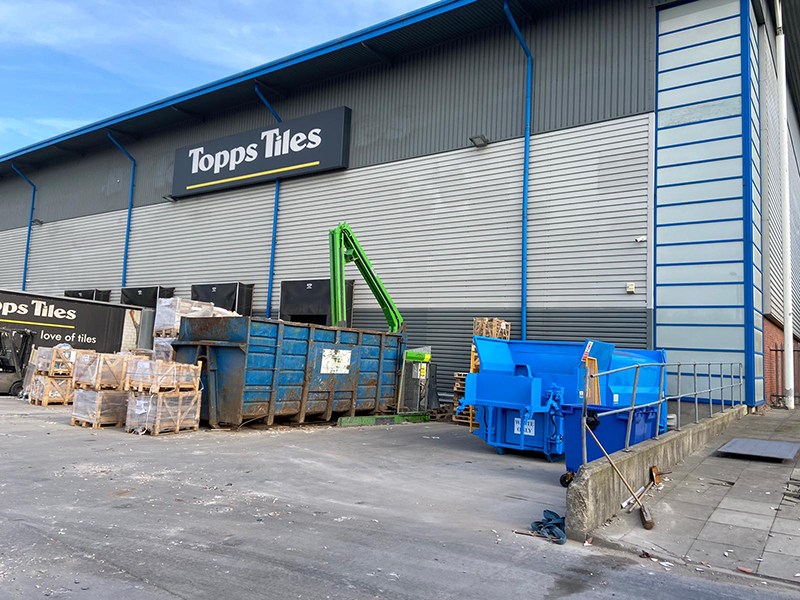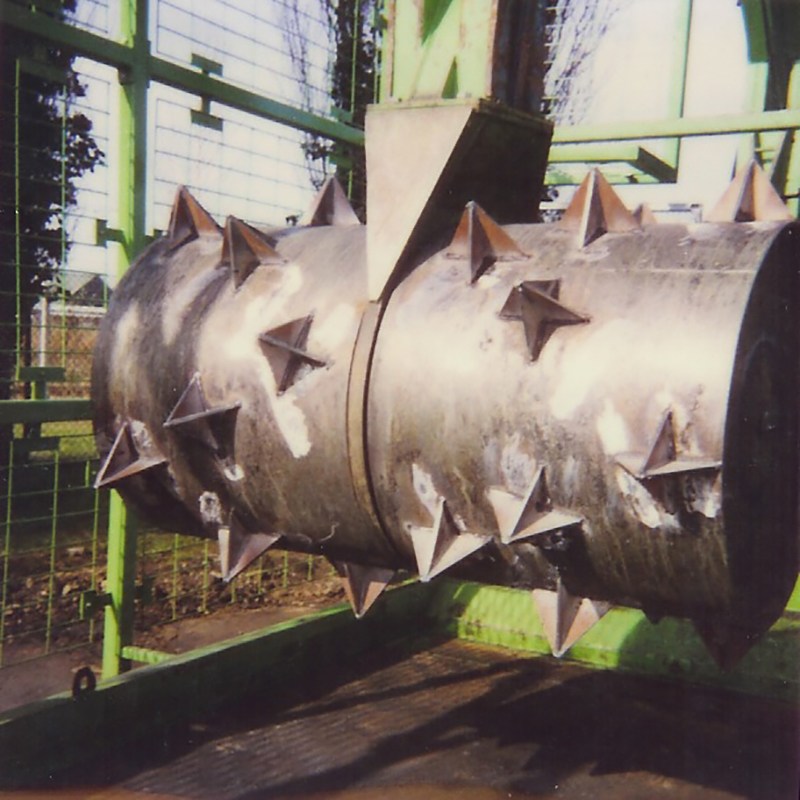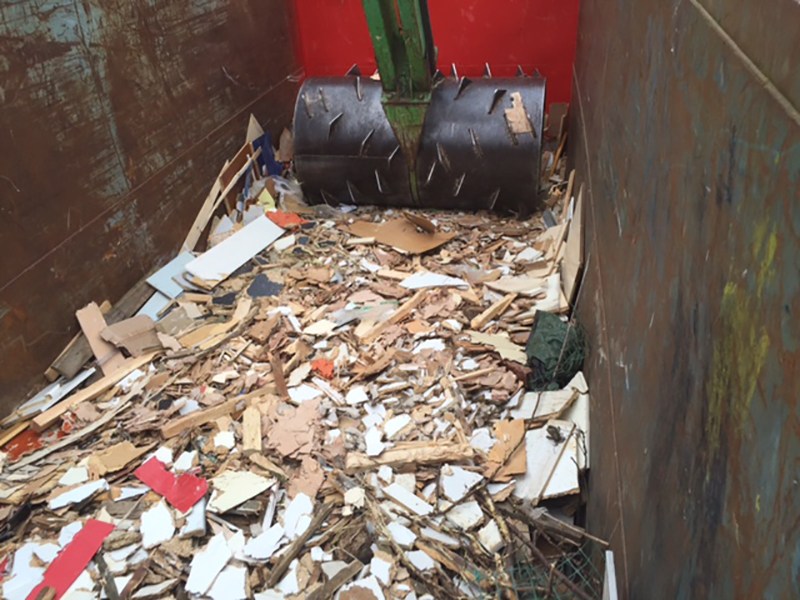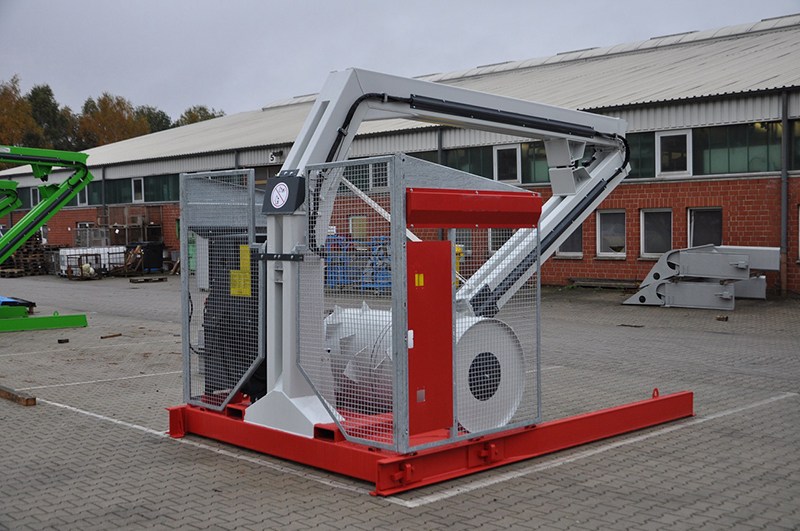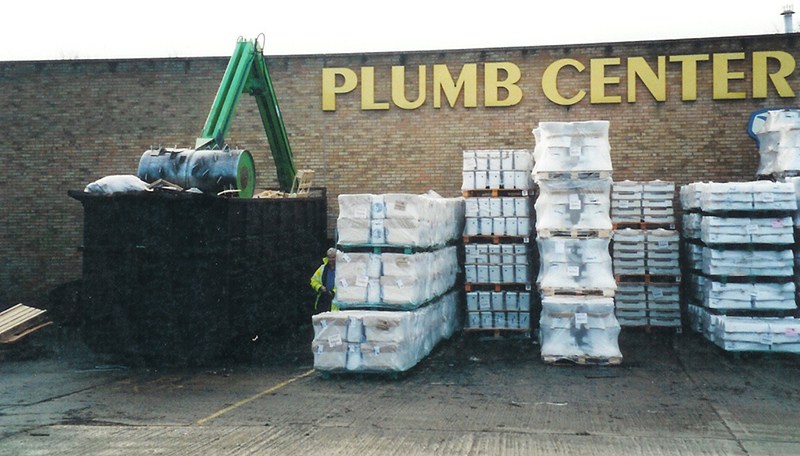 Jumbo Roll Packer – Skip Compactor
Description
The Jumbo roll packer is one of our largest compactors in our range. The compactor sits next to a 35-yard Ro-Ro (roll on, roll off) skip and reaches in over the top using its 6600mm long arm. The machine works by rolling an aggressive drum lined with teeth backwards and forwards to shred, destroy and crush all material in its path creating layer upon layer of compacted material. By using the Jumbo Roll Packer, a compaction ratio of up to 5:1 is possible which drastically reduces transportation costs ensuring you are not being overcharged for under capacity skips. Waste can be fed continuously into the skip and set on an automatic cycle or used in its manual mode. The compactor works especially well with large bulky materials like pallets and drums, but it deals with most materials with ease.
Product Details
Product Dimensions
Overall Width
2800mm
Overall Height
6600mm
Overall Weight
~3200kg
Technical Specification
Drum Weight
1.5T
Motor
5.5kW
Drum Diamiter
1150mm
Drum Length
1700mm
Rotations Per Minute
6
Max Rolling Distance
6600mm
Electricity Supply
3 Phase, 415V, 32A
Typically, one 40yd roll on roll off skip would be needed to gain a cost saving.
Features
E-stops
Lube nipples
Limit switches
Long reach arm
Automatic cycle
Aggressive drum
Simple, easy to operate controls
Hydraulic pack separate from waste
Rated IP65 so safe to be sited inside or outside
Benefits
Keeps the yard much tidier
Reduces waste disposal costs
Reduces contractor traffic on site
More environmentally friendly
Fast interchange of skips so minimal down time
No longer being charged for air voids in skips/bins
Reduces carbon footprint and complies with ISO 14001
The Jumbo Roll Packer is extremely easy to use.
Step 1 – Setup
When installing, the Jumbo Roll Packer must be bolted to the floor by one of our engineers. Once installed, the contractor will supply an open top 35yd RoRo hook lift skip underneath the compactor. The compactor will only start working when a skip is in place. Hold the down button to move the drum into place ready to start its compaction cycle.
Step 2 – Feeding
This step is straight forward – Throw the waste into the skip until there is enough material for the compactor to start rolling over. Press the green 'go' button to start the compaction cycle. The arm will start extending rolling the drum at walking place to the end of the skip and back. In its standard setup this will cycle 3 times, but it can be configured to run more/less.
Step 3 – Waste removal
On the control panel you hold the 'up' button until the arm is fully back in its resting position. The contractor will arrive on site with a hook lift vehicle and an empty skip. They will set down the empty skip to one side and reverse up to the full skip attaching their hook to the front of the container. The full skip is then moved out of the way and set down, the empty skip is then picked back up and moved into place ready for compaction. The contractor then picks up the full skip and takes it away.
As simple as that! It probably takes longer to read the operation than to implement it. As part of the package, one of our trusty engineers will come to site and show the team how to operate it in person. Training certification can be supplied if required.
*Note – Refurbished models may vary in its operation slightly, but the principle will remain very similar.
Output Containers
RO-RO Skip
30-40 Yd³
Jumbo Roll Packer – Skip Compactor Brochure
Interested in learning more about the Jumbo Roll Packer – Skip Compactor? Leave your details below to get an instant free copy of our brochure.
More Questions Than Answers?
We appreciate that our comprehensive range of machinery can sometimes make it difficult to find the right machine to suit your requirements.
Our Product Finder tool makes it easy to find the perfect Baler, Crusher or Compactor to satisfy your business requirements.
Show Me
Request a callback
Prefer to speak to us in person? Then leave your details below and a member of the team will be in touch shortly.
Mon - Fri: 9am - 5pm
Sat - Sun: Closed