WICKS HOME DELIVERY CENTRE
Situation
With an annual spend of around £60,000 on refuse disposal, Wickes Home Delivery Centre decided action was needed to reduce this expense.
It was found that a considerable proportion of this was being spent on the disposal of pallets, with a daily collection of a 40 cu yd open top container.
Landfill Alternatives were called in to advise on the best way to crush down the pallets which could then go for composting or re-use in producing other wooden products.
The installation of a Jumbo Roll Packer was recommended by Landfill Alternatives. This machine is a rugged and proven compactor that is used in high volume and large item waste applications. As soon as the material is in the container the continuous rolling action of the drum gets to work. The weight of the drum and the pendulum arm collapses the volume of the waste, then, the drum teeth split, separate and spread the material over the whole length of the container.
As the priorities in the selection of a pallet crusher were safety first and foremost, and secondly a system that would create minimum mess and dust, the Jumbo Roll Packer was an ideal choice. It has achieved a reduction of skips by a factor of 7:1 reducing the number of collections on site.
An additional benefit is that the company is now recycling a product which had previously been landfilled and, maintaining their "green" momentum, they have also put a collection system in place for their plastic film and cardboard.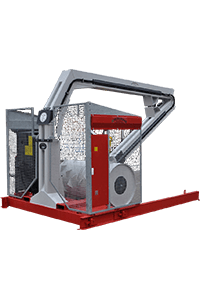 Client Feedback
"This is a superb compactor which is not only very efficient but is also simple and easy to use. We have not changed any of our operation systems so it has achieved this £15,000 saving per annum with no disruption. Landfill Alternatives were very knowledgeable and gave us a number of options to process the waste and how to dispose of it". Mark Hinds, Facilities Manager
More Questions Than Answers?
We appreciate that our comprehensive range of machinery can sometimes make it difficult to find the right machine to suit your requirements.
Our Product Finder tool makes it easy to find the perfect Baler, Crusher or Compactor to satisfy your business requirements.
Show Me
Request a callback
Prefer to speak to us in person? Then leave your details below and a member of the team will be in touch shortly.
Mon - Fri: 9am - 5pm
Sat - Sun: Closed