WATERMARK LTD
Situation
Watermark are a card wholesaler. They pick orders of different varieties and types of greetings cards with huge instructions at Christmas. Much of the packaging around the cards is lightweight being plastic sleeves, tissue paper and small card inserts and they stick labels on the cards and so generate lots of yellow backing called glystene.
Landfill Alternatives were asked to reduce the costs of disposal and also save labour.
At each work station "piece" workers and casual labourers filled a bag of waste and on a regular basis this was thrown into a tipping skip. Unfortunately, there was no time or space to put in recycling systems. The tipping skips filled up a 35 cu yd open top skip once a week with only 1000kg of weight.
Landfill Alternatives suggested installing a continual feed Roto Compactor in place of the tipping skip. The Roto Compactor has a customised drum which chews up and compacts all waste as it is thrown in. In this way, a 350Kg block of material is generated sat on a pallet and already wrapped in a bag.  At Watermark, as the bags were generated they were thrown straight into the compactor saving forklift trips outside to the skip. The compactor saved 9 trips in every 10 which saved an hours labour a day.
Now the skip is emptied once every 6 weeks with a corresponding saving in transport costs. It also helps reduce the quantity of vehicle movements in an already busy yard and puts less dependence on staff calling the waste contractor on time. If he is late they just make another block.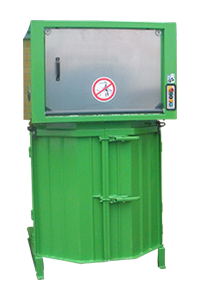 Client Feedback
"We discussed a baler option as well but we went with the Roto Compactor as it is bagged on completion of the bale and there is no labour content. The Roto Compactor has performed as projected and is making a valuable contribution to reduce labour costs and improve housekeeping." Mark, General Manager
More Questions Than Answers?
We appreciate that our comprehensive range of machinery can sometimes make it difficult to find the right machine to suit your requirements.
Our Product Finder tool makes it easy to find the perfect Baler, Crusher or Compactor to satisfy your business requirements.
Show Me
Request a callback
Prefer to speak to us in person? Then leave your details below and a member of the team will be in touch shortly.
Mon - Fri: 9am - 5pm
Sat - Sun: Closed