Cardboard Balers – The Complete Buying Guide
Regardless of industry, almost all businesses produce waste cardboard. In many cases, this ends up in bins and skips which can lead to excessive waste disposal fees. Seldom do workers crush or flatpack cardboard down, which means valuable space inside your bins is being used inefficiently. If this scenario sounds familiar then it's likely you could benefit from investing in a Cardboard Baler.
Cardboard Balers come in a range of shapes and sizes but are predominately categorised into two types; Vertical and Horizontal. Regardless of the model, the underlying concept remains the same. Cardboard Balers are loaded with all types of cardboard (boxed, flattened and shredded) either by hand, forklift or via a conveyor belt system. A powerful hydraulic ram then compacts all of the cardboard and in the process forms a cardboard Bale. Once the Bale is ready it is ejected from the machine and can be collected for recycling. 

What are Cardboard Bales?
Depending on the size of the Baler, cardboard Bales can weigh anything between 25kg – 500kg. Larger Balers produce Mill Sized Bales which are incredibly dense and achieve the highest amount of rebate. Cardboard is the material of choice for packaging and since the fibre in cardboard has already been processed it is one of the easiest materials to be recycled. This means that baled cardboard is often collected for free and at certain volumes can actually generate revenue for your business. In addition to this, by removing bulky cardboard from your bins or skips you'll lower your collection costs significantly. 
What are the Benefits of Cardboard Balers?
Balers have become increasingly popular across all industries including; retail, restaurants, offices, supermarkets, and warehouses. This is because they offer a host of benefits to businesses including: 
Improved Efficiency 
With no need to handle and flatten endless boxes, staff can spend more time and energy focusing on key business tasks. If you produce large quantities of waste, we can design and install full turn-key systems that feed cardboard directly into the baler via a conveyor belt. 
Cost Savings
Baled Cardboard can often be collected for free or at certain volumes can even generate revenue. In addition to this, bulky boxes are removed from bins and skips reducing the need for frequent collections. 
Enhanced Environmental Credentials
Consumer trends are shifting to favour more sustainable businesses. By opting to bale and recycle your waste you reduce the amount sent to landfills and lower your carbon footprint.
Saves Space On-site
Bulky cardboard boxes take up a lot of valuable space and not only make a business look untidy but can also be a health hazard. A Cardboard Baler can keep your site clear and enables you to keep on top of your waste.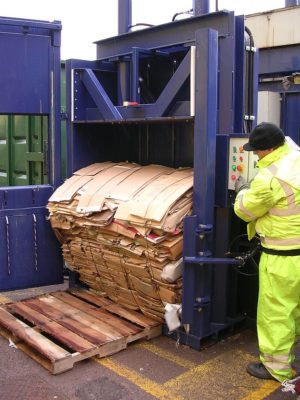 Case Study
One such business that has benefitted greatly from installing a Cardboard Baler is a food distributor based in Norwich. You can read the full case study here.  
"The baler works just how described and it's amazing how many boxes the baler will take before it's full. The baler saves me significant time as well as being more environmentally friendly."

– Martin Mather, Director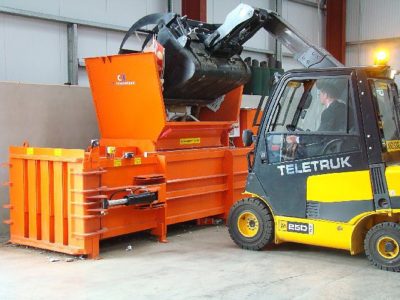 Cardboard Baler: FAQ
What is a Cardboard Baling machine?
A Cardboard Baler is a machine that enables you to effortlessly and quickly compact all types of cardboard into cardboard bales. These bales can then be sent to recycling mills to be processed. 
How much does a Cardboard Baler cost?
Depending on the model, Cardboard Balers can vary in price. At Landfill Alternatives, we offer affordable leasing and rental agreements on all of our models. Since recycling cardboard can save your business money by lowering disposal costs and receiving a potential rebate, it is certainly worth the investment. 
Do you sell refurbished Cardboard Balers?
Yes, we sell and lease hire a comprehensive range of new and refurbished Balers. 
What type of Cardboard can be baled?
All types of cardboard can be baled; boxes, flattened or shredded provided the cardboard isn't wet or heavily contaminated with plastics. 
Will I have room for a baler?
We have a model suitable for any sized business. Our smallest Baler is roughly the same size as a filing cabinet. Vertical balers have a small footprint and can be placed where waste is generated to increase efficiency. 
How much does a bale of cardboard weigh?
Depending on the model, bales can weigh anywhere between 25kg and 500kg. 
How does cardboard recycling work?
Once baled, cardboard is collected and sent to recycling centres who will process the material so it can be re-used.  
Where can I sell my cardboard?
We have a network of service providers that can arrange the collection of your cardboard. 
Do I need a Vertical Baler or a Horizontal Baler?
The answer depends on the volume of cardboard you're processing and how you are looking to feed the machine. If you dispose of large quantities of cardboard then you may benefit from a Horizontal Baler. If you are looking to feed the baler via bin tipper, tele grabs or conveyors then horizontal baling may also be an option. If you're not sure, why not book a zero obligation, on-site audit today.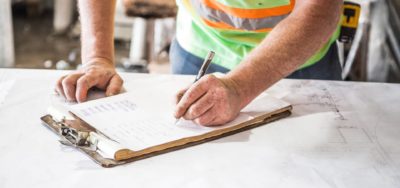 Free Audit
Choosing the right type of baler for your specific requirements can be a tricky decision to make.  With so many different factors to consider it helps to have a professional's input. That's why we offer a free, no-obligation on-site audit.  During this visit, we'll analyse all of your waste streams and recommend a solution that will best satisfy your requirements. We have over 20 years' experience in waste management so rest assured we'll find the right fit for you.