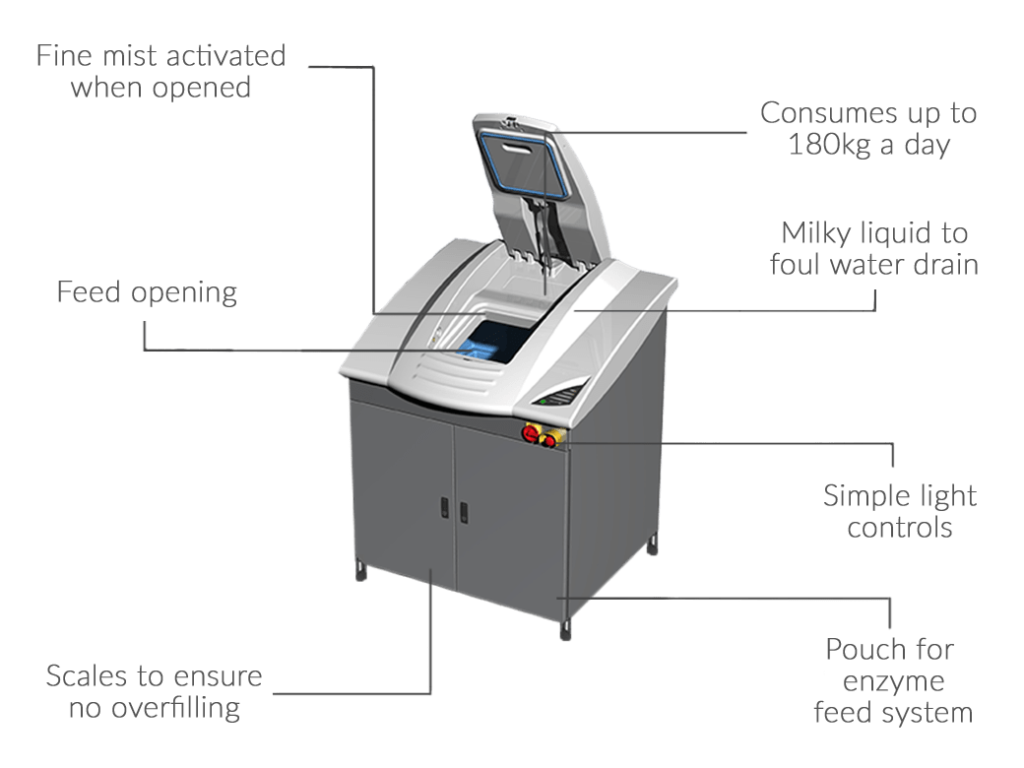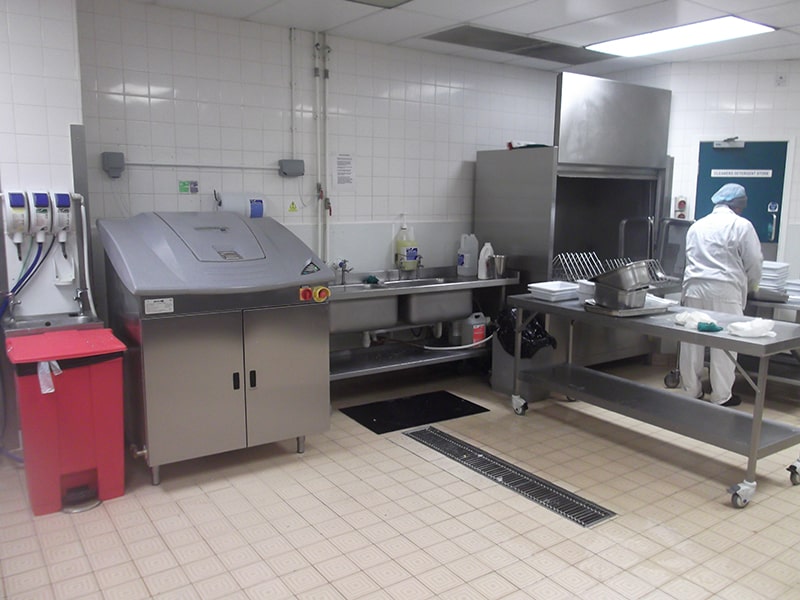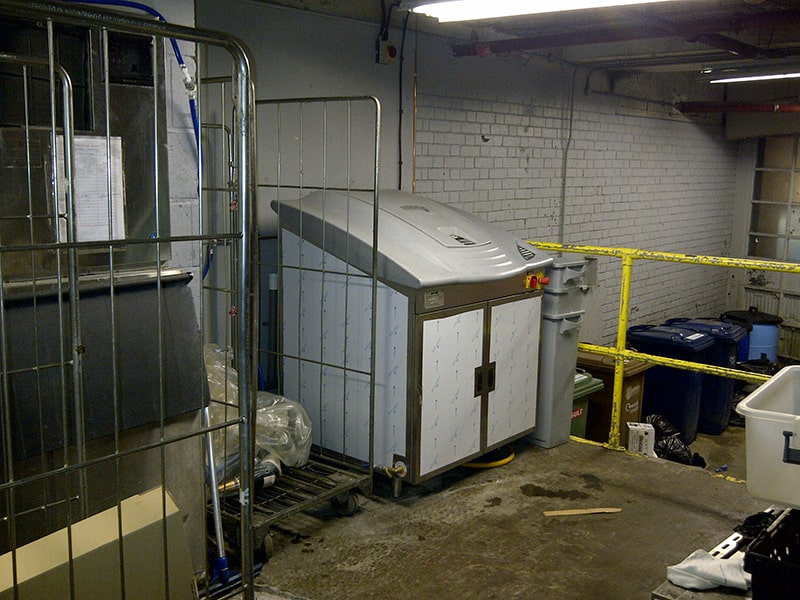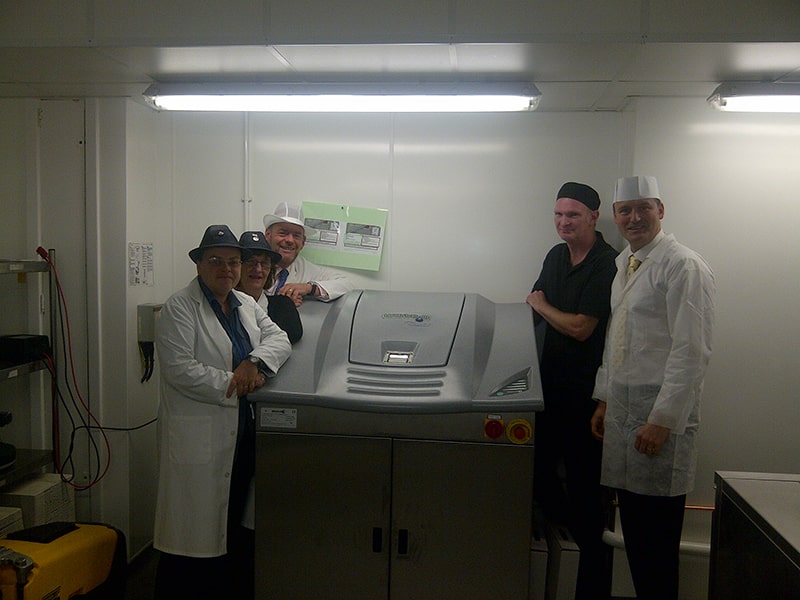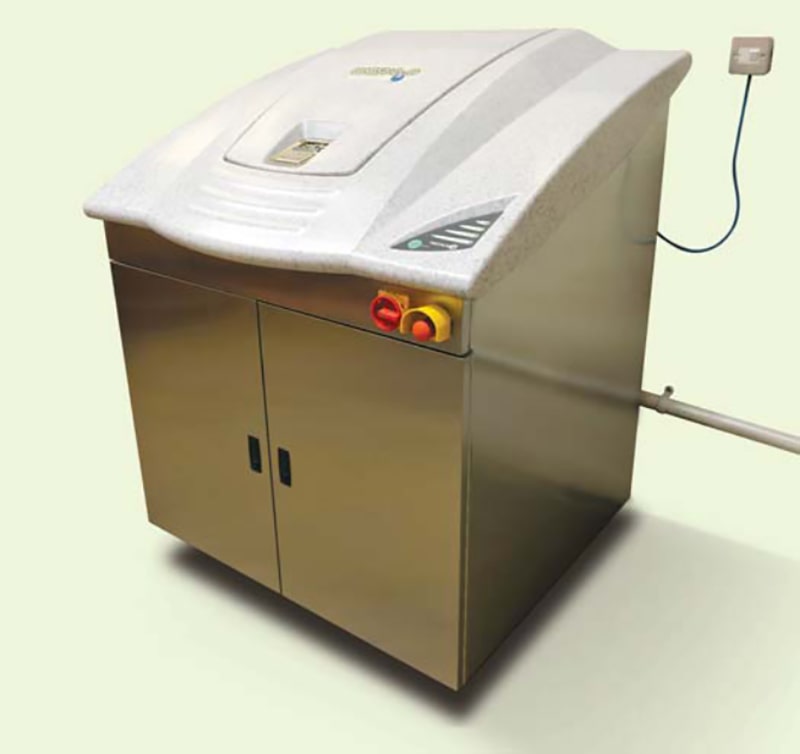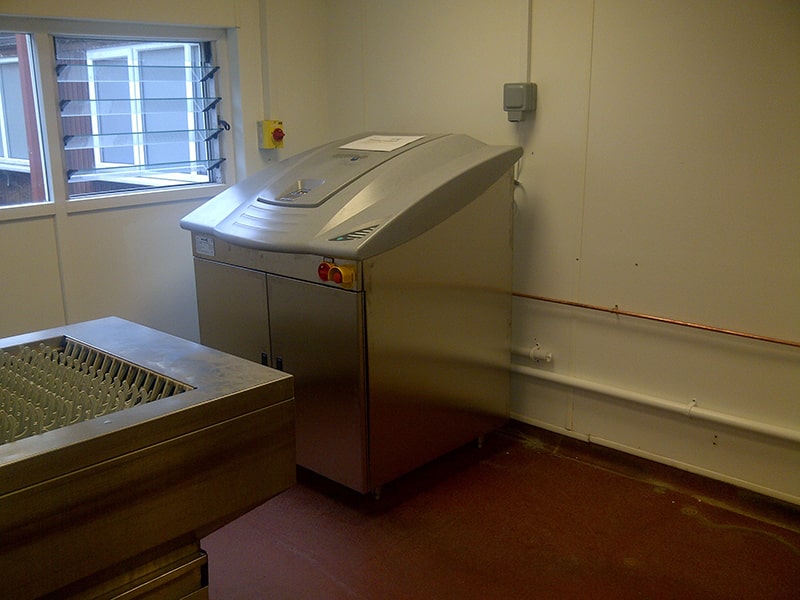 LFA Digester
Description
The LFA Digester is a unit that breaks down soft bio-degradable foods converting it into a grey discharge water (effluent) that's safe to go directly into the drainage system. The machine essentially replicates the stomach by slowly churning food waste which is mixed with warm water containing enzymes. These enzymes bind themselves to the food, catalysing the chemical bond breaking process on carbohydrates, fats and proteins resulting in a grey water output (effluent). The machine is best used on a mix of soft biodegradable food waste like cooked/uncooked meat, fish, vegetables, bread and rice but not heavily fibrous materials like bones and fruit husks. Up to 180kg of food is able to be processed over a 24-hour period resulting in a large decrease in costs.
Product Details
Product Dimensions
Overall Width
1095mm
Overall Height
1435mm
Overall Depth
1015mm
Overall Weight
230kg
Height with Lid Open
2070mm
Technical Specification
Throughput
180 kg/day
Revolutions Per Minute
6
Electricity Supply
Single Phase, 220V, 10A
Typically, around 70kg of food waste a day would produce a cost saving.
Features

Small footprint
Automatic cycle
Continuous feed
Simple easy to use control panel

 

Benefits

Saves space in bin area
Contains all bad odours
Reduces food disposal costs
Reduces vermin in the bin yard
Environmentally sound solution
Reduces waste contractors on site
Reduces carbon footprint and complies with ISO 14001
Enzymes in the discharge water help keep the drains clear of fat
Leads to a tidier working environment which improves health and safety
The LFA Digestor is very easy to use once setup.
Step 1 – Setup
The LFA Digestor requires to be situated inside on a flat surface. The machine must be connected to a continuous 24-hour warm water supply at 50°C and a 42mm waste connection ideally connected to the drainage system. Open the feed lid and empty a bag of wood chips and a sachet of enzymes. This is to be done once every three months for the catalyst process. Close the feed door and press the green restart button. The machine will warm up and bind the enzymes to the wooden chips. After 20 minutes, the lid will unlock, the running light will illuminate signally that the machine is ready for wood waste.
Step 2 – Feeding
Open the feed door, pour in the food waste and close the lid. Approximately 45kg of organic food waste can be fed every 6 hours so continue feeding until the wait light illuminates notifying the user that the machine is at capacity. Wait until this light goes off and the running light illuminates. As simple as that, the discharge water automatically runs down to the drainage system, so no further operation but feeding.
Step 3 – Maintenance
Every now and then the fluid needs replacing, on the control panel a replace fluid indicator will illuminate notifying the user to do this
Every 6 months or so it is best to top up the wood chips and enzymes
LFA Digester Brochure
Interested in learning more about the LFA Digester? Leave your details below to get an instant free copy of our brochure.
Benefits of Specialist Equipment
To reduce disposal costs

To have less contractor traffic on site

To reduce carbon footprint and comply with ISO 14001

To save on labour from reduced material handling

To lead to a tidier work environment which improves health and safety

To reduce storage space
More Questions Than Answers?
We appreciate that our comprehensive range of machinery can sometimes make it difficult to find the right machine to suit your requirements.
Our Product Finder tool makes it easy to find the perfect Baler, Crusher or Compactor to satisfy your business requirements.
Show Me
Request a callback
Prefer to speak to us in person? Then leave your details below and a member of the team will be in touch shortly.
Mon - Fri: 9am - 5pm
Sat - Sun: Closed