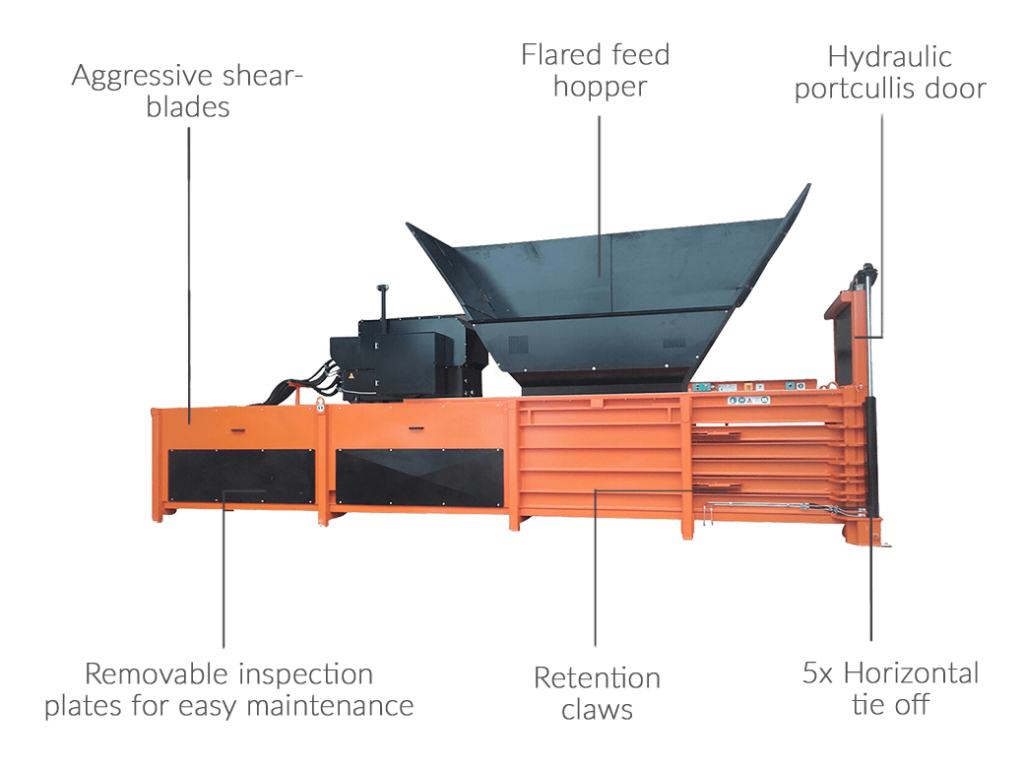 LFA 850 H.FE PC – Horizontal Baler
Description
The LFA H.FE.PC combines a high compaction force with a huge filling chamber to produce high-density bales. The machine can produce bales up to 850kg cardboard, and can achieve a throughput of up to 3T per hour.The LFA H.FE.PC is equipped with a 22kW motor and a Hardox® Floor as standard, enabling clients to process large volumes of materials such as cardboard, soft and hard plastics. It also has a Full Eject System (HFE) and a Portcullis Door (PC) for easier and faster operation; bale length can be adjusted to clients needs.
Bale Measurements
Weight (Cardboard)
~ 850-1000kg
Weight (Shredded Paper)
~ 920-1020kg
Weight (Soft Plastic)
~ 1000-1500kg
Weight (Hard Plastic)
~ 500-850kg
Weight (Non Perforated PET)
< 400kg
Weight (Perforated PET)
< 500kg
This creates a Mill Size bale that generates maximum rebate
LFA 850 H.FE PC – Horizontal Baler Brochure
Interested in learning more about the LFA 850 H.FE PC – Horizontal Baler? Leave your details below to get an instant free copy of our brochure.
Benefits of Baling
Reduce carbon footprint and comply with ISO 14001

To reduce storage space required for bulky waste

Reduce disposal costs and receive maximum income on the baled material

To lead to a tidier work environment which improves health and safety

To reduce the need to flat pack/break down material

To save on labour from reduced material handling
Product Details
Product Dimensions
Overall Width
8500mm
Overall Height
2800mm
Overall Depth
1600mm
Overall Weight
~10000kg
Feed Opening Width
1750mm
Feed Opening Height
1050mm
Technical Specification
Compaction Force
75T
Motor
22kW
Cycle Time
44 Seconds
Throughput
3 T/Hr
Wire Ties
5
Tying Direction
Horizontal
Bale Ejection Method
Full Eject
Noise Level
80dB
Electricity Supply
3 Phase, 415V
75T compaction force for high bale density
Full eject system for easy operation and to avoid cross-contamination
Long feed-opening for bulky materials
Bale length adjustable to optimise transport loads
Strong and aggressive shear-blades will cut most materials
Portcullis door and 22kW motor for quick operation
More Questions Than Answers?
We appreciate that our comprehensive range of machinery can sometimes make it difficult to find the right machine to suit your requirements.
Our Product Finder tool makes it easy to find the perfect Baler, Crusher or Compactor to satisfy your business requirements.
Show Me
Request a Callback
Prefer to speak to us in person? Then leave your details below and a member of the team will be in touch shortly.
Mon - Fri: 9am - 5pm
Sat - Sun: Closed