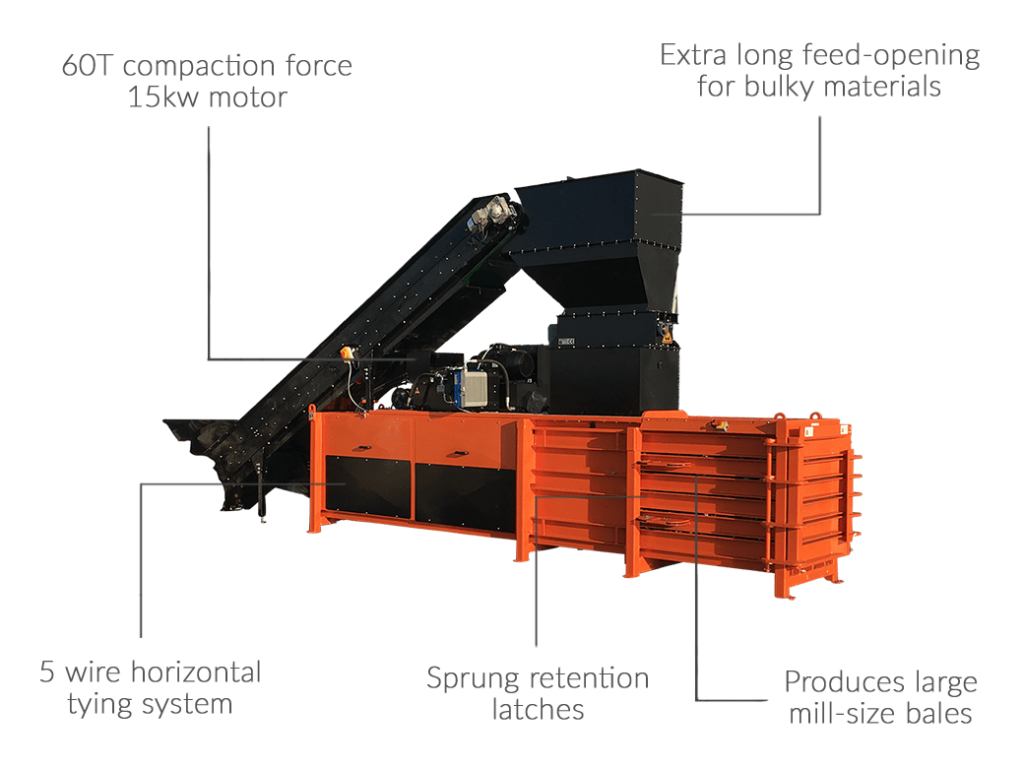 LFA 600 H.FE – Horizontal Baler
Description
The LFA 600 H.FE is an excellent closed-end horizontal baler that can process up to 3 bales per hour. The distinction between a horizontal baler (H) and a vertical mill sized baler is that the horizontal machine will allow for continuous feeding, thus achieving a much superior throughput. The Full Eject System (FE) ensures fast operation, which allows switching between different waste streams and avoids contamination. The 5 wire horizontal tying system and the high shear force provide a solution for a variety of situations. It is ideal for shredded paper, PET and aluminium cans. It has a 60 ton compaction force which gives high density bales. It has a horizontal tying system which will minimize labour needs.
Bale Measurements
Weight (Cardboard)
~ 500-600kg
Weight (Soft Plastic)
< 700kg
Weight (Hard Plastic)
~ 500-550kg
Weight (Non Perforated PET)
< 350kg
Weight (Perforated PET)
< 450kg
Weight (Aluminium Cans)
< 480kg
This creates a Mill Size bale that generates maximum rebate
LFA 600 H.FE – Horizontal Baler Brochure
Interested in learning more about the LFA 600 H.FE – Horizontal Baler? Leave your details below to get an instant free copy of our brochure.
Benefits of Baling
Reduce carbon footprint and comply with ISO 14001

To reduce storage space required for bulky waste

Reduce disposal costs and receive maximum income on the baled material

To lead to a tidier work environment which improves health and safety

To reduce the need to flat pack/break down material

To save on labour from reduced material handling
Product Details
Product Dimensions
Overall Width
6400mm
Overall Height
2650mm
Overall Depth
1410mm
Overall Weight
~6250kg
Feed Opening Width
1000mm
Feed Opening Depth
720mm
Technical Specification
Compaction Force
60T
Motor
15kW / 22kW
Cycle Time
40 / 30 Seconds
Throughput
2 T/Hr
Wire Ties
5
Tying Direction
Horizontal
Bale Ejection Method
Full Eject
Noise Level
80dB
Electricity Supply
3 Phase, 415V
We can modify the LFA 600 H.FE baler to your specific needs. We can attach an integrated bin tipper, door dampener and retention claws. We can also adapt the hopper to suit your feeding method, the shearing blades to suit your material and we can also upgrade the motor to decrease the cycle time. For further customisation, contact us and we will try to meet all requirements.
Shearing knives are replaceable and made from hardened tool grade steel
Automatic baling cycle and automatic full bale ejection system
Automatic cut out when bale is full so operator is informed when bale is ready to be tied
Automatic baling cycle initiated with photo-sensor
The machine can be supplied with an oil cooling system
Robust construction for long life
IP55 rating allows machine to be located outside
CE Marked
More Questions Than Answers?
We appreciate that our comprehensive range of machinery can sometimes make it difficult to find the right machine to suit your requirements.
Our Product Finder tool makes it easy to find the perfect Baler, Crusher or Compactor to satisfy your business requirements.
Show Me
Request a Callback
Prefer to speak to us in person? Then leave your details below and a member of the team will be in touch shortly.
Mon - Fri: 9am - 5pm
Sat - Sun: Closed