Introducing Our Can Crusher Range for Sale or Lease Hire
If your business places waste cans into bins without crushing them first then you've probably noticed that your bins can fill up very fast and require frequent collections. Not only are you paying for the disposal of air inside the uncrushed can but you're also sending recyclable material to landfills. Aluminum cans can be recycled and reused indefinitely. Therefore, an industrial can crusher can not only save your business money by reducing the number of collections, but it can also help the environment. Many cans contain hazardous waste such as oil and paint and require careful disposal into hazardous waste bins. Typically, these are more expensive to collect, therefore it's paramount to utilise all available space by ensuring each can is crushed. 
We found the following businesses can benefit the most from installing a heavy-duty can crusher:
Paint & respraying Firms

Resturants

Car Garages 

Hospitals

Manufacturers

Builders & Decorators 

Industrial kitchens
Our Can Crushers for Sale or Hire
At Landfill Alternatives, we offer a comprehensive range of industrial Can Crushers suitable for crushing aerosols to 50-litre cans and everything in between. All of our Can Crushers are available to buy or lease. Our commercial-grade machines offer a 5:1 compaction ratio and can crush cans by up to 80%. By implementing a Can Crusher at your business you can:
Reduce the number of waste collections 

Ensure bin space is fully utilised by removing all air 

Keep the workspace clean and tidy 

Reduce your businesses impact on the environment 

Ensure recyclable material isn't being sent to landfill 
LFA ACC 4 – (Aerosol Can Crusher)
This heavy-duty crusher is perfect for any business that has to dispose of Aerosol cans or small paint cans. Four cans can be loaded into the chamber and 1200kg of force is applied. During this process, cans are degassed and become safe for disposal. 
Get in touch today to arrange a 'no-obligation' 7 day free trial.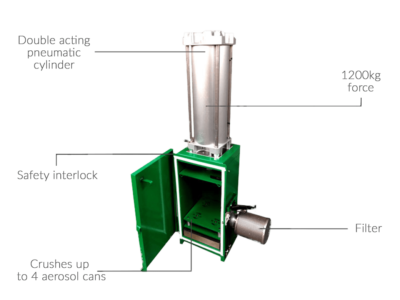 LFA CC 5 (Can Crusher – Small)
This industrial machine can be wall or bench mounted. It is capable of crushing 5ltr cans by up to 80% by applying 865kg of pressure. This makes it a great option for businesses looking to dispose of cans effectively.  
Get in touch today to arrange a 'no-obligation' 7 day free trial.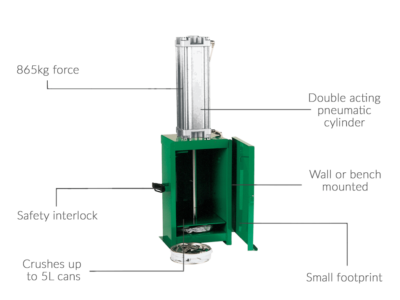 LFA CC 30 (Can Crusher – Medium)
This commercial-grade machine is a great option for any business that dispose of a number of cans ranging up to 30ltr in size. It has a small footprint and applies 2500kg of force crushing cans by up to 80%. 
Get in touch today to arrange a 'no-obligation' 7 day free trial.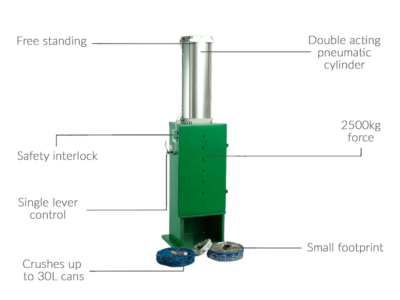 LFA CC 50 (Can Crusher – Large)
This heavy-duty machine for any business looking to dispose of large cans up to 50ltr in size. The LFA CC 50 crushes cans by up to 80% by applying 2500kg of force. 
Get in touch today to arrange a 'no-obligation' 7 day free trial.