Our Best Selling Vertical Balers
Waste management is a key issue for many businesses. With factors like space, cost and environmental impact to consider, Vertical Balers are the ideal solution for processing and compressing waste materials into small, manageable bales.
We've put together some of our most popular Vertical Balers for sale, to rent, or lease hire. These machines are perfect for businesses that produce small to medium volumes of waste or where space is limited. They can handle cardboard, textiles, foam, plastics, bottles or cans, all of which are compressed and baled for easier, safer and more affordable transport to a recycling or waste disposal facility.
If you're not sure which model is right for you, speak to one of our friendly sales team, or arrange a free, no-obligation onsite audit.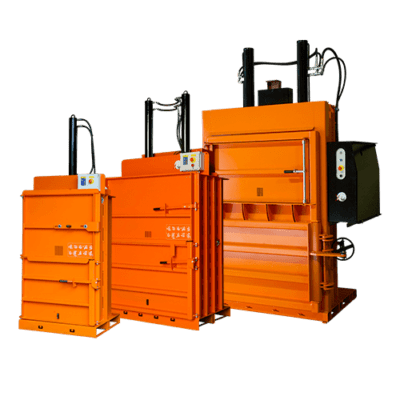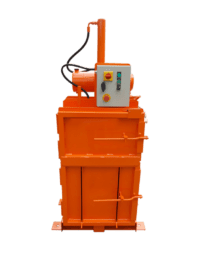 Super Small Baler
LFA 51 S – Super Small Vertical Baler
The smallest model in our range, the LFA 51 S is a compact, efficient baler that is ideally suited to small businesses and locations where space is limited; not only do you benefit from the tidy footprint of this model, the LFA 51 S enables businesses to keep recyclable materials out of bins and skips.
This model is the best choice for processing and managing smaller quantities of waste – with a capacity of up to 30kg – the LFA 5 S super small vertical baler has a 25 second cycle speed, quickly compressing and baling your waste for efficient storage and disposal.
The 570 x 420mm feed opening allows for a range of materials – most commonly cardboard, textiles, plastic film and packaging, dry waste and paper. Forming compact bales of 500 x 470 x 500mm which are ejected to the bale trolley supplied.
The compact footprint means this unit fits into even the tightest of spaces, measuring just 670 x 720mm and its IP rating of 65 makes it suited to indoor or outdoor locations, able to withstand any weather.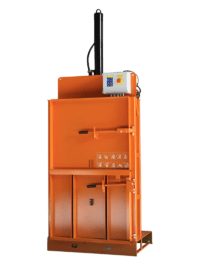 Small Baler
LFA 51 – Small Vertical Baler
Our best-selling waste baling unit, the LFA 51 offers lightning-quick baling for businesses looking to reduce storage space, improve waste management, and efficiently process waste materials.
With a feed opening of 715 x 550mm and a cycle speed of just 42 seconds, this baler produces 70kg bales. The LFA 51 has been the baler of choice for many businesses and is used to process materials like cardboard, plastic film, dry waste, and paper. Baling removes the requirement to store waste and recyclable materials and reduces disposal costs.
With an IP rating of 65 the LFA 51 can be sited indoors or outdoors, impervious to even the worst weather, and the unit has a compact footprint of just 830 x 785mm fitting into sites with limited space.
The 70kg bales eject into the trolley included, measuring 715 x 600 x 510mm, making your waste easier to store, stack and transport for disposal or recycling. Not only does this reduce costs, but at certain volumes, businesses can generate rebates.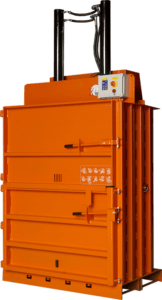 Medium Baler
LFA 151 – Medium Vertical Baler
A universally popular midrange baler, the LFA 151 has been a best seller for many years. The popular choice for small to medium businesses with significant waste management needs, this medium vertical baler can handle up to 180kg or waste, with a cycle time of just 55 seconds.
With its feed opening measuring a generous 1090 x 540mm this medium vertical baler can process cardboard, plastics, dry waste, paper, and packing materials, efficiently compacting and baling with a 10t force. Producing a bale measuring 1090 x 700 x 700m. These bales are auto-ejected onto a bale trolley for easier processing and disposal.
Suited to both indoor and outdoor use, the unit has an IP rating of 65. The machine has a footprint of 1230 x 2460 x 990mm making it a compact and efficient mid-range option for small and medium businesses needing to reduce storage space and cost for waste management.
LFA 500 - Large Vertical Baler – Mill Size
Learn More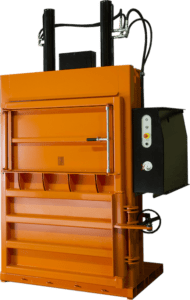 Large Baler
LFA 500 – Large Vertical Baler – Mill Size
Our biggest, industrial waste baler, the LFA 500 vertical mill size baler is a beast of a machine, suited to any environment which needs to process significant volumes of waste and recyclable materials. Compacting and baling waste – especially at these volumes – can drastically reduce waste disposal and processing costs. It also provides a steady revenue stream from recycling rebates as well as improving health and safety and minimising environmental impact.
The generous 1185 x 610mm feed opening leads through to a chamber with a 50t compaction force, able to produce 520kg bales. With a cycle of time of 55s  this is the perfect machine for processing cardboard, plastic films, dry waste, and paper. A popular choice for industrial sites, manufacturing, retail units, and warehouses.
The IP rating of 65 means this unit is suited to outdoor use, resistant to all extremes of weather, and it has a footprint of 920 x 3110 x 1100mm.
Waste is compacted into mill size bales, measuring 1270 x 1170 x 770mm, and are auto ejected to the bale trolley which comes with every unit. Mill size bales are favoured by recycling centers and maximise the potential rebate your business can earn.