THOMPSON VALVES
Situation
Thompson Valves manufactures precision valves for the water and oil industries. Bob Hartwell recently took over the environmental function and decided that the company must 'do their bit'. They were emptying a front end loader skip a week of cardboard and another 2 skips a week of general waste which had a high percentage of plastic film and paper.
Bob invited Landfill Alternatives in to assess the different options available for a 'Nil to Landfill' system which would also achieve a cost reduction. The installed solution was to position wheelie cages at key points to capture cardboard, stuff frames to capture plastic film and white office towers to segregate the paper. At the heart of the system is a twin chamber baler and now cardboard, plastic film and waste is all baled. The material is all collected through one contractor and the companies 'waste summary' chart now shows a much higher percentage of material recycled with the final small percentage being burnt for energy.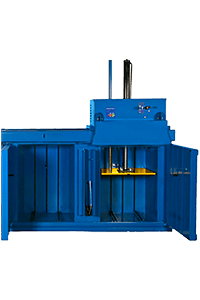 Client Feedback
"The biggest surprise was that our two skips a week of waste reduced to one bale of 70kgs. This demonstrated what poor value we were getting from our contractor and what a high percentage was recyclable. I cannot understand why all companies don't adopt this sort of system' said Bob 'as it is an absolute no brainer'. Bob Hartwell
More Questions Than Answers?
We appreciate that our comprehensive range of machinery can sometimes make it difficult to find the right machine to suit your requirements.
Our Product Finder tool makes it easy to find the perfect Baler, Crusher or Compactor to satisfy your business requirements.
Show Me
Request a callback
Prefer to speak to us in person? Then leave your details below and a member of the team will be in touch shortly.
Mon - Fri: 9am - 5pm
Sat - Sun: Closed