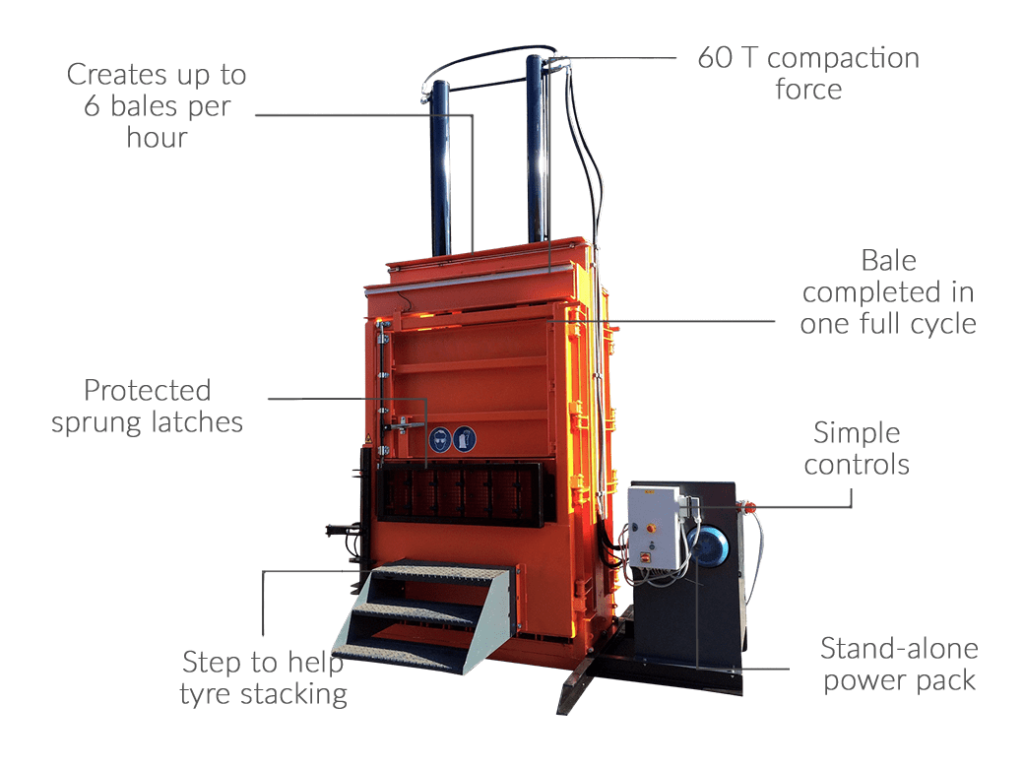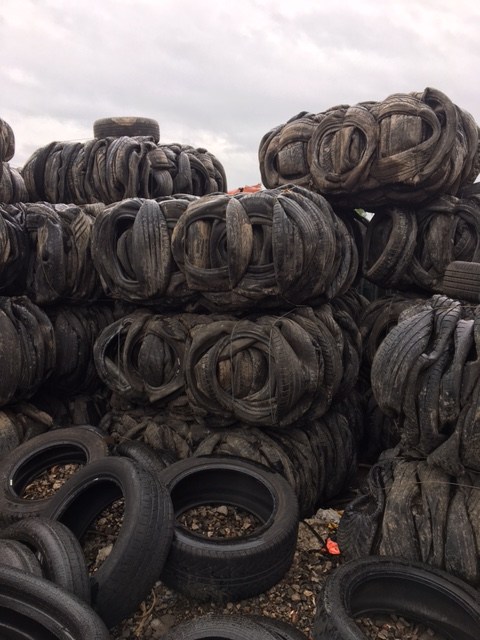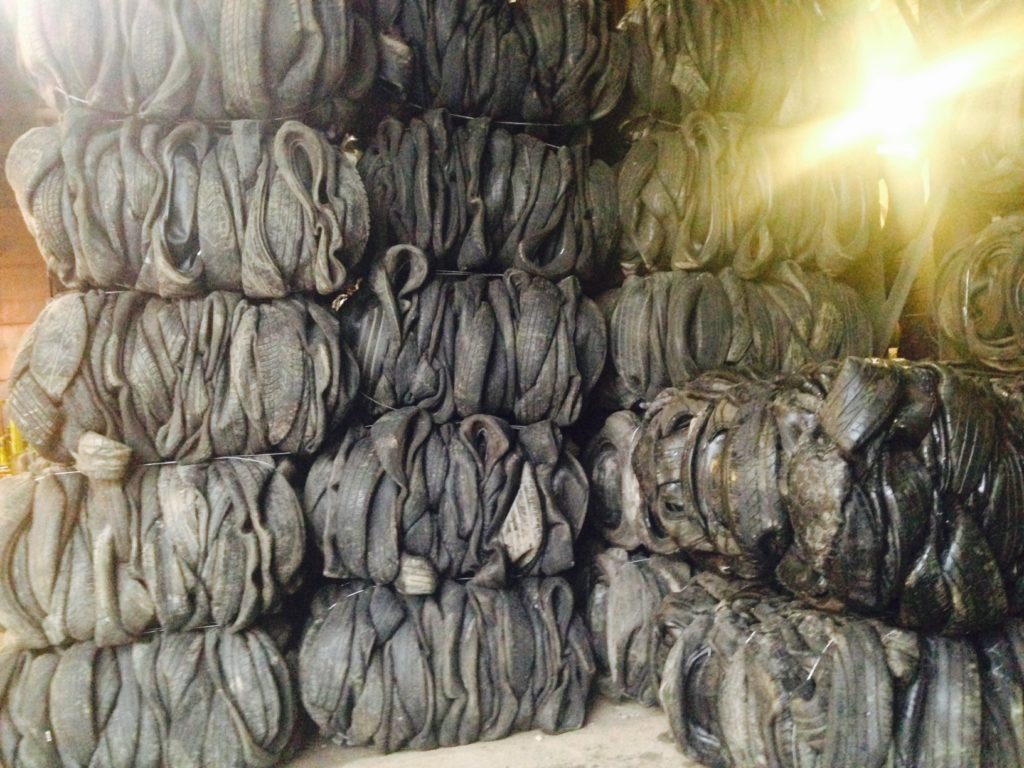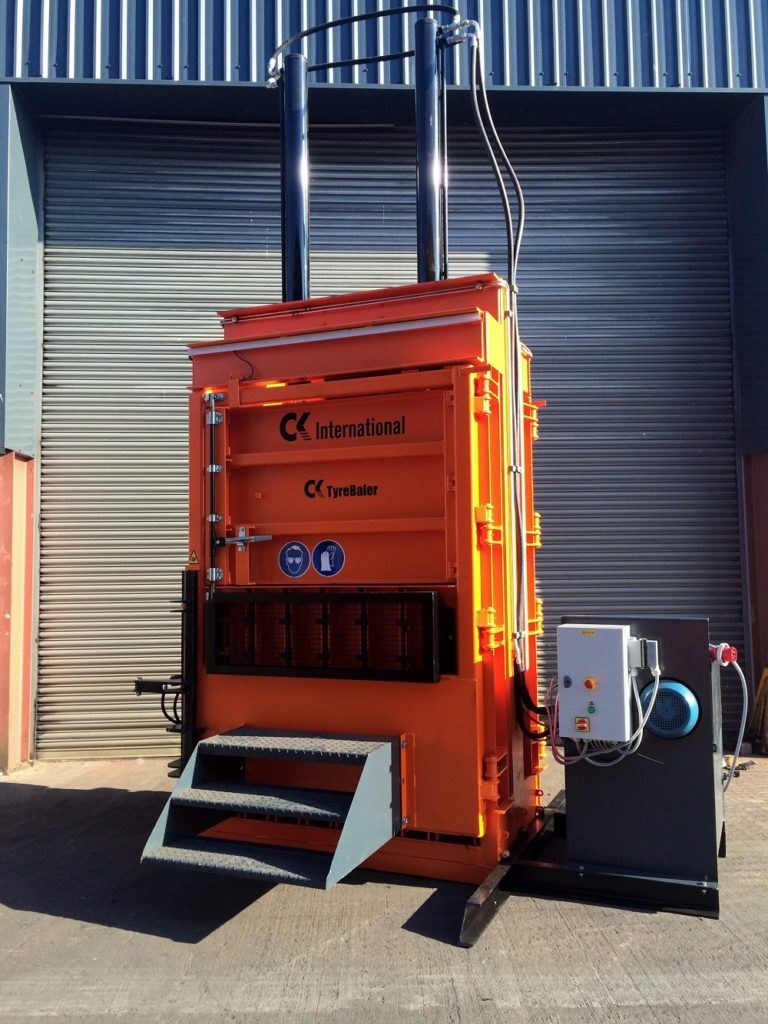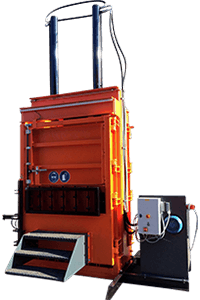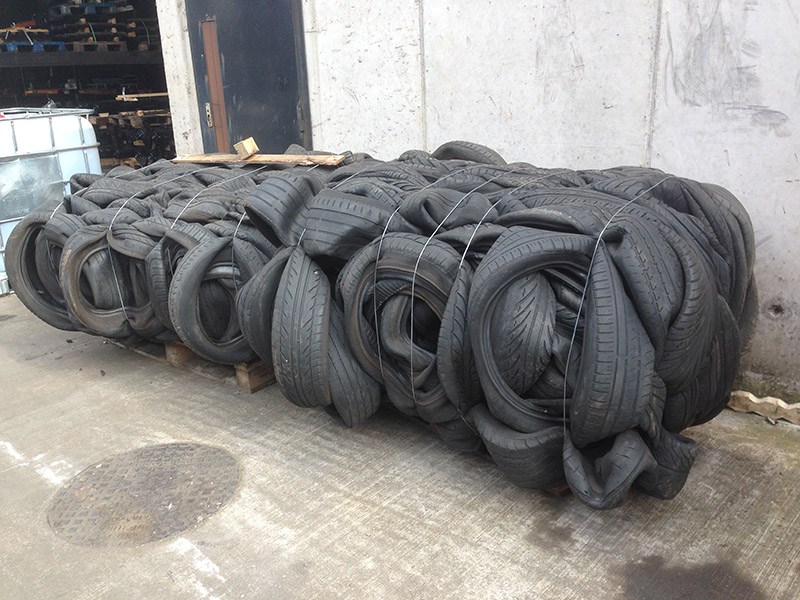 LFA TB – Tyre Baler
Description
The LFA TB (tyre baler) is an extra-large vertical baler designed to reduce transportation costs in the tyre recycling industry. This is achieved by having a whopping 60 tonne force, 20 retention claws and twin cylinders to create bales of 90-120 tyres resulting in a bale weighing in at over 1 tonne – this is a volume reduction of up to 85% and is a highly suggested method for transporting large amounts of tyres.
The LFA TB normally takes 3-4 compaction cycles to create a full bale and boasting a fast cycle time of 80 seconds it means you are able to create up to 6 bales per hour. Due to the springy nature of tyres, 5 easy lock, high tensile bale wires are used to keep the tyres from expanding and the bale from falling apart. To be able to easily feed the baler with tyres, the extra-large feed opening is 1470x990mm and steps are fitting to the front door, so you are able to feed tyres at the top of the pile. Robust chains and double doors are specified to eject the bale and the LFA TB is PAS 108 compliant.
Bale Measurements
This machine creates a small bale size that is easily moved with its own trolley
Product Details
Product Dimensions
Overall Width
3000mm
Overall Height
4700mm
Overall Depth
2200mm
Overall Weight
~5500kg
Feed Opening Width
1470mm
Feed Opening Depth
990mm
Technical Specification
Compaction Force
60T
Motor
7.5kW
Cycle Time
80 Seconds
Wire Ties
7
Tyres Per Bale
∼ 90-120
Noise Level
75dB
Feed Door
Side Hinged
Electricity Supply
3 Phase, 415V, 32A
Features

E-stops
Feeding steps
Robust chains
Double doors
Twin cylinders
Automatic cycle
Wire guide slots
Bale full indicator
PAS 108 compliant
Hydraulic door clamps
Safety interlocked doors
Heavy duty compaction plate
Simple, easy to operate controls
Auto eject for easy bale removal
20 retention claws inside the chamber
Rated IP65 so safe to be sited inside or out

Benefits of baling

Reduces transportation costs
Creates up to 6 bales per hour
Saves on labour from reduced material handling
Bales are commonly used in the construction industry
Reduces storage space required for uncompacted tyres
Reduces carbon footprint and complies with ISO 14001

Produces bale dimensions optimised for higher transport loads
The LFA TB is very easy to use. All in all, the machine takes roughly 4 minutes to tie off a bale and eject. Quick and easy!
Step 1 – Setup
Release the hydraulic door clamps for both of the doors and open them. Place five wires in the wire guide slots, close the back door and hydraulically clamp it shut.
Step 2 – Feeding
This step is straight forward – With the front door open, start layering the tyres so once a compaction cycle happens it creates brick wall like layers, this will ensure the bale stays rigid and together. Continue doing so until you are unable reach the top of the pile, shut the front door and hydraulically clamp it shut. Now you are able to open the top part of the front door and use the steps to feed the higher areas. Once you are unable to feed any more tyres, close the top door and press the green 'go' button to run a full compaction cycle. Tyres will be compacted past the retention claws and be held down by then allowing you to fill the chamber with more tyres on the next cycle.
Step 3 – When is the bale full??
This baler has an auto stop feature so when the bale is full, the press plate stays down, and the tyres stay under compaction. Continue the latter part of step 2 until this happens.
Step 4 – Tying off the bale
Release the hydraulic clamps and open both doors. You are now able to thread the wires round the back of the bale and through the wire channels in the press plate Bring the two ends of the easy lock wires together and lock them in place. Repeat this on the other 4 wires.
Step 5 – Ejecting the bale
Now that you have created a bale, you need to eject it. At the back of the machine, connect the two ejection chains to the plate and place a pallet in front of the baler. Hold down the two bale ejection buttons on the control panel and the plate will start rising, along with the ejection chains. The bale will start tipping and with momentum, the bale will slowly roll onto the pallet. You now have a tyre bale weighing over 1000kg sat on a pallet ready to be stored for collection.
As simple as that! It probably takes longer to read the operation than to implement it. As part of the package, one of our trusty engineers will come to site and show the team how to operate it in person. Training certification can be supplied if required.
LFA TB – Tyre Baler Brochure
Interested in learning more about the LFA TB – Tyre Baler? Leave your details below to get an instant free copy of our brochure.
Benefits of Baling
Reduce carbon footprint and comply with ISO 14001

To reduce storage space required for bulky waste

Reduce disposal costs and receive maximum income on the baled material

To lead to a tidier work environment which improves health and safety

To reduce the need to flat pack/break down material

To save on labour from reduced material handling
More Questions Than Answers?
We appreciate that our comprehensive range of machinery can sometimes make it difficult to find the right machine to suit your requirements.
Our Product Finder tool makes it easy to find the perfect Baler, Crusher or Compactor to satisfy your business requirements.
Show Me
Request a callback
Prefer to speak to us in person? Then leave your details below and a member of the team will be in touch shortly.
Mon - Fri: 9am - 5pm
Sat - Sun: Closed